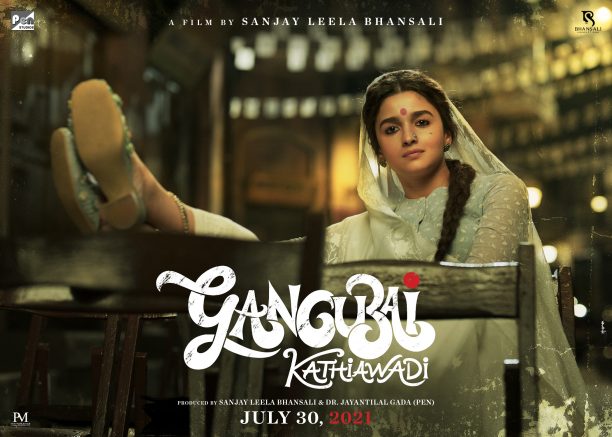 Many directors have a signature style, one that when you see the costumes, the sets, the colors you know oh that is a film by… Sanjay Leela Bhanslai is one of those directors. Think: Hum Dil De Chuke Sanam, Devdas, Ram-Leela, Padmahavaat, and you get the picture. He is known for a combination of beauty and grandeur, epic costumes, glorious sets, oust stand in music and brilliant performances to bring to life incredible tales. Once again he has made fans of his work awed with the releases the teaser and a poster of his highly-anticipated film Gangubai Kathiawadi.
Starring a fierce Alia Bhatt, the film is based on the life of Mumbai's mafia boss Gangubai Kathiawadi, who was a sex worker and eventually became an underworld don in Mumbai.
Check out the teaser!

Gangubai Kathiawadi – A story, based on the book " Mafia Queens of Mumbai" written by S. Hussain Zaidi, is a film that celebrates the rise of a simple girl from Kathiawad who had no choice but to embrace the ways of destiny and swing it in her favour.
The narrative walks through the life of young Ganga who in no time marks her own territory and becomes Gangubai – The Matriarch of Kamathipura.
Once again, Sanjay Leela Bhansali brings to his audience a moving yet stem-winding story with power-packed performances laced in his magical musical notes.
With a promise to make one and all feel inspired in 2021 as Gangubai Kathiawadi celebrates the journey of a girl who became the voice for women empowerment.
The film will mark the 10th directorial of cinema maestro. Known for bringing the best out of any artist, Bhansali surely has tapped onto the right spot to get the best performance by the actress Alia Bhatt.
Produced by Sanjay Leela Bhansali and Dr. Jayantilal Gada (Pen Studios), the film is all set to hit the cinema halls on 30th July this year.
ICYMT also check out the earlier posters.