From her first moment on screen in her debut film Student of the Year, Alia Bhatt has been an actress to watch. With smart choices and amazing performances in Highway and 2 States, Alia has more than lived up to the promise she showed in SOTY. This week we get to see yet another side of the young actress, the dreamy side, in the quirky rom-com Shaandaar. Directed by Vikas Bahl of Queen fame, the film also stars Shahid Kapoor and Pankaj Kapur.
First the trailer to set the stage:

http://youtu.be/k99-vMPh3-A
We got a chance to have a quick chat about the film with the lovely actress. See what she had to say about her character, working with Shahid and what she thinks is shaandaar about Shaandaar in this exclusive!
What goes into your decision to take on characters?
I look for different characters. You kind of get an instinct and if you think this a character and a film that you would want to watch and that my friends and family would want to watch, then you go ahead and do it. I also look for characters, movies, moments, and parts that challenge me. I really try and explore a new side to me with each film. That is a constant effort. Whether or not I get it – that really depends on the director and the kind of writers that we have. Right now I am fortunate enough to get those different kinds of characters.
This seems to be a different, kind of quirky film. What was your first thought when you heard the narration?
When my director came and gave me the narration he told me many random things. Like 'Alia this is a destination wedding film. The character's name is going to be Aliya. She is really quirky and really crazy'. (smiles). You know, he just kept telling me things like that and like 'oh there is going to be one family that only wears gold. Then there is Shahid, who is the wedding planner, who is kind of this good boy gone bad attitude'. There were all these random things that are put together in this crazy, crazy world. And you know, at this time, his film Queen hadn't even released so I wasn't going off the basis of that. I was just going off the basis of this madness that he was trying to get out there. It had a really unique touch and I think that is what had me sold.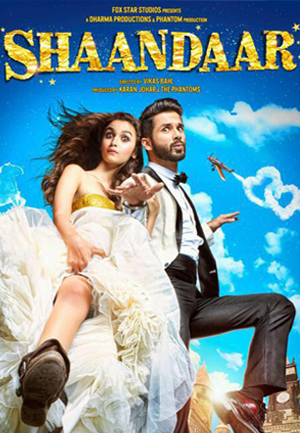 Tell us about your character in Shaandaar.
As I said my character's name is also Alia – that is very cool. She is this quirky kind of off girl. She has these little things that she does. Number one is that she is an insomniac, so that instantly made me very interested because insomnia is an angle we have not really touched on before in film. Not yet at least. We have not made a love story out of it, so to speak, so that is something that really, really got my attention. Also because she is an insomniac, she has spent a lot of time reading, she is a trivia queen and she has all these fun facts stowed away in her head. And she will just blurt them out at you. No one is even asking her but she is just telling them. So because of all that and she was a character I liked. This was something that I really, really wanted to explore. I am really happy that I went ahead and did it.
How do you become your characters?
Honestly speaking Stacey, I need a couple of things that the director tells me to play with, for example there was this trivia thing that I played with. Also it was the way she walks, it was this kind of easy, like she was almost floating by herself but she was actually walking on the sidewalk walk. She has this energy and this sparkle in her eyes. These are a few things that I talked with my director about and began working with. Then I just become that character. You know what really does it for me and what I am very happy about for this character is the kind of clothing she wears. That really helps. Aliya is a girl who always, always wears boots – even if she is wearing a sari she is wearing boots. You know, wearing something like that automatically affects you and your energy. If you are wearing something tight, you are going to feel a sharpness about your character and your demeanor. If what you are wearing is really loose and your hair is open and if you are more comfortable there is an ease that comes into your body language. So you get to play with that. One thing that I was really very happy about was that I got to wear a mustache. (Laughs)
Did you enjoy shooting this film because you not only had the regular story but you also had all the dream sequences.
To be perfectly honest it was too much fun! I need a whole new word to describe this experience. It was so much fun. It really was magical. Complete magic.
So tell us about working with Shahid Kapoor in this mad quirky film.
Honestly to me it was a big deal, because he has been around for quite a few years already. He is a senior actor, but I never felt that. I always felt very, very comfortable with him. We really, really hit it off. He's the first Piscean that I am actually fond of. Usually we Pisceans aren't fond of other Pisceans. Shahid broke that for me so that was a lot of fun. Of course, when you are friends with somebody for the first time that in itself is very exciting. It is a very fresh, new experience and you always get to explore new things. The scenes were different, which was cool. And with all of us coming together for the first time there was a certain rawness to our interactions and that really worked for us on this film.
What do you think the director Vikas Bahl brought out in you as an actress?
What he brought out in me was comfort yaar. Being more comfortable in front of the camera and forgetting that there is a camera actually filming. That was the way we played most of our scenes. It was very spontaneous, it could go very off on tangents but it still needed to be connected. That is the ease that the director needs to bring out of you and that is what I felt while making this film.
What do you think is shaandaar about Shaandaar?
What really to me is shaandaar about Shaandaar is the idea behind this film and that came out of Vikas's head. So if it wasn't for Vikas's lovely head there would be no Shaandaar. I am very, very grateful for his head.
Do you get nervous before the shoot begins?
Yeah, yeah but I am a happy nervous person. I am not nervous is a way that I would like to call nervous, I am happy excited. I get a tingle in my toes and in my eyes – all over. I really think it is just something that I get excited about and I feed off the energy. I think it is all just nervous energy and it is all good.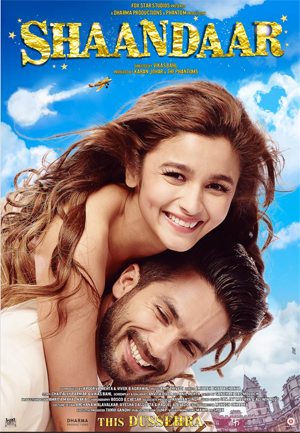 What drives you and what do you love about being an actress?
I always wanted to do it. For me it is magic. It is magic every time I am acting or performing. Magic every time I am interacting with people who love cinema, who love lighting or love costumes, who love to act. For me, it is all magic. It is always a moment of magic and I think only a fool would run away from magic.
What would you say about your career so far from the beginning, until the films now and the films you have still to come in the future – it is quite amazing and quite exciting.
Thank you for that. I am very grateful. That is most important. I am very grateful to be here; very grateful to be here at this time where a film like this can be made. Grateful for meeting these people who are offering me these films, who are making these stories. I am very grateful. I have to say I have been very lucky. I have been very fortunate, but I have also been very, very hard working. And what I have to say about my future is that if I am not putting more than a hundred percent every day, and that each day has to be a step ahead than the last day, then I don't think I am doing my job fully. That is what is happening now and that is what I am doing everyday.
What do you think you have learned so far?
I think to quantify what I have learned would take a really, really long time. I can say that with each and every film I have discovered and I hope I have learned a little more about how to just be, because there is a lot of acting that happens where you have to slowly, slowly let the moment take over and let the reality be. So that part has been really exciting. With each film I try to do that. It is very delicate. It is like okay I am not Alia, maybe I am not this person, maybe I am that person. That is what happens in film and that is something I find really exciting. You have to be in the moment and just be the character fully.
You are very active on social media, what do you enjoy about interacting with your fans and do you have a message to your many fans?
My main message to my fans is that through social media, Instagram, Twitter etc is that I am not trying too hard. I am not being fake. I'm always being genuine. When I am not interacting, if I am not saying anything then I want to be alone. Or maybe I want to do my own thing. For me, I really like having people being in touch with me. I love the simplicity of their energy. I like the energy. Obviously there can be too much negativity sometimes, which can get a bit bothersome, and I won't lie about that. But that is just how it is when you bring a bunch of people to a platform. Some people like to portray that negative persona on social media and that is just one of the side effects of social media. But that hasn't bothered me so much…yet. But what I would like to say to all of them is just be yourself, don't be fake. Channel the real you and don't lose faith in just being you every day.
Shaandaar hits theaters on October 22nd!