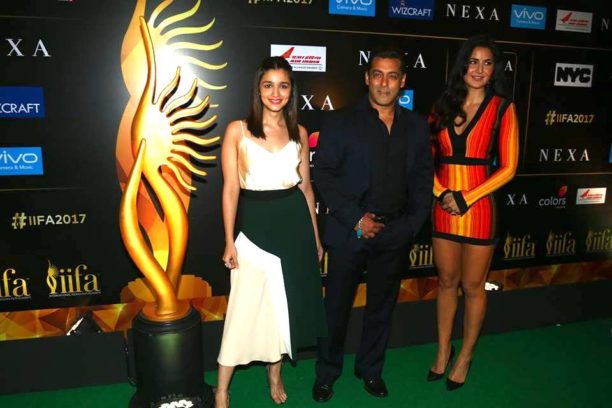 The 18th Edition of the most spectacular celebration of Indian Cinema worldwide, including Indian film, music, fashion aka the International Indian Film Academy (IIFA) awards will be hosted in the city of New York, from 13th – 15th July 2017 this year! The NEXA IIFA Awards Powered by VIVO is among the most coveted and highly anticipated award celebration that honors the very best of Indian Cinema with the highest level of achievement seen through the glamorous IIFA statuette.
To reveal some of the exciting details about the upcoming NEXA IIFA AWARDS POWERED BY VIVO, Bollywood's superstar Salman Khan was joined by leading ladies Katrina Kaif and Alia Bhatt at the official IIFA press conference in Mumbai today at Taj Lands End. Additionally, encapsulating IIFA's aim to build bridges across cinemas, businesses, communities and nations, creating everyone's dream: "One People. One World" a LIVE Video Conference with 5 Cities globally including New York, London, Dubai, Chicago and Houston was also held post the press conference.
Commenting on the occasion, Salman Khan says, be "It always feels great to be a part of the IIFA Movement and I look forward to the 2017 IIFA Awards."
Katrina Kaif added saying, "I'm really excited and looking forward to performing at the IIFA Awards this year. It is such a great platform that not only showcases the celebration of cinema globally, but also it's a great opportunity for us to reach out to our fans worldwide. I am excited that this year, it is happening in one of my favorite cities – New York!"
Speaking about her debut performance at IIFA, Alia Bhatt shares, "I am very excited to be a part of IIFA 2017, as this is going to be my debut at the IIFA Festival after 5 years in the industry. I am super excited that IIFA is being held in the beautiful city of New York. IIFA is all about togetherness and the celebration of the Indian cinema globally and I eagerly look forward to this celebration".
The talented Karan Johar will host the highly anticipated NEXA IIFA Awards Powered by VIVO, which will witness stunning performances from Bollywood megastars such as Salman Khan, Alia Bhatt, Katrina Kaif, Shahid Kapoor, Sushant Singh Rajput and Kriti Sanon, to name a few.
IFA Rocks has always been a star-studded affair with a mélange of glitz, glamour and star power. It is a celebrated global event that has been growing each year. This year, IIFA Rocks will celebrate 25 years of A. R. Rahman in the industry. The show is set to feature a never seen before medley of musicians that includes Diljit Dosanjh, Benny Dayal, Javed Ali, Neeti Mohan, Jonita Gandhi and Haricharan Seshadri. IIFA Rocks will be hosted by the charismatic duo Riteish Deshmukh and Manish Paul.
Speaking on the occasion, Wiz Viraf Sarkari Director- Wizcraft International, the producers and creators of the IIFA movement, says, "It is amazing to see the excitement growing as we move closer to the biggest IIFA ever. For the first time in the Big Apple, IIFA will be a truly memorable experience for the audience with a mix of music, dance, culture and cinema. Capturing the very best of India with the use of world-class production and a lineup of some of the most sought after Bollywood celebrities, IIFA promises to be a great show at the spectacular MetLife Stadium. We are grateful for all the support and cannot wait for fans to see the Bollywood extravaganza come to life in July!"
Ambassador Riva Ganguly Das, Consul General of India said, "I am delighted that IIFA is coming to New York this year. This is an extremely timely initiative and will no doubt help in giving further visibility to Bollywood in this lively cultural capital of the world. Bollywood films speak a universal language which everyone across cultures and languages can relate to. I am sure New York will be dazzled by the glamour, sheer beauty, charm and power of our films and what they stand for."
IIFA is dedicated to building bridges across cinema, businesses, communities and nations, creating everyone's dream: "One People. One World". The journey over these past 17 years has seen the brand evolve from a one night affair to a weekend, which celebrates and hosts various events and activities related to cinema, business, culture, music and fashion. Hosting a variety of events during the weekend IIFA helps bring together a global community of people from all walks of life. IIFA continues on its journey with strength to grow every year in the world of entertainment and building the outreach as a major event globally to bring positive results and impact. This year is set to be one of the biggest, most extravagant and amazing IIFA Weekends to date.
In case you did not know, you get to be a part of deciding who will take home the trophy. The popular category nominations are available for the global audience to participate in the voting process. The IIFA Global Voting went LIVE on 20th May 2017 and will be open till 18th June 2017 and you can vote here. The final winners of the IIFA Awards are revealed on the night of the Awards ceremony.
Keep up to date with all the latest news and details on IIFA by logging on to www.iifa.com or checking out the social media handles:
Facebook – https://www.facebook.com/IIFA/
Twitter- https://twitter.com/IIFA
Instagram – https://www.instagram.com/iifa/
With the excitement growing across the world, people can now get that hot seat for the spectacular 2017 IIFA Weekend & Awards at New York events to be hosted at MetLife Stadium as tickets are LIVE to the general public available online only at ticketmaster.com or by calling (800) 745-3000 or by simply clicking the 'Buy Tickets Tab' on the official IIFA website http://www.iifa.com/. Fans can also purchase the tickets at MetLife Stadium Box Office (Box Office hours: M – F, 11am – 5pm). For VIP Club Experiences, e-mail us at vipclub@iifa.com. IIFA has a special treat for its fans, "The Double Dhamaka Offer". Get two shows for the price of one. Buy any IIFA Awards premium seating tickets for Ground Level and Level 100 seats and get free tickets to IIFA Rocks.
About IIFA (International Indian Film Academy)
Conceptualized and produced by Wizcraft International Entertainment Pvt. Ltd. and supported by the key members of the Indian film fraternity, IIFA is the most appreciated South Asian film academy and a global platform that gives the Indian film fraternity an opportunity to reach audiences in international territories. The alliances made via the platform of IIFA provide huge benefits and gain to India but an equally important objective of this prestigious brand is to create similar outcomes in its host country. The aim is to establish a system of mutual benefit to both India as well as the host destinations by boosting tourism, economic development, trade, culture, cross-border investments and film co-productions.
Wizcraft International Entertainment Pvt. Ltd promotes the IIFA Weekend & Awards globally each year and travel to new, exciting and beautiful destinations, taking the film fraternity with it to unite and celebrate the best of Indian film and culture, thereby taking Indian Cinema and India to a wider audience. www.iifa.com.