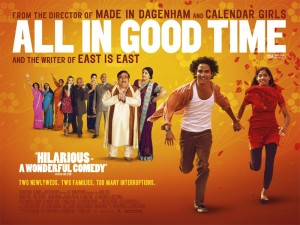 Bollyspice were at the red carpet event for All in Good Time, an exciting new British Asian film starring Meera Syal (Goodness Gracious Me, Jhoom Barabar Jhoom), at London's prestigious British Film Institute. The film is adapted from the award winning play Rafta Rafta, written by Ayub Khan Din, who also wrote the successful East is East.
Set in Bolton, in the north west of England, it centres around a close knit Asian family, focussing on newly married couple Atul Dutt (Reece Ritchie – Prince of Persia) and Vina (Amara Karan – The Darjeeling Limited). When their honeymoon is cancelled the day after the wedding, the newlyweds reluctantly return home to the family. From here on begins the chaotic challenge of noesy neighbours and meddling parents and how the couple struggle to keep their marriage ticking…
Walking the red carpet were the films director Nigel Cole (Calendar Girls, Made in Dagenham), writer Ayub Khan Din, the actors and most notably for Bollywood fans actor Harish Patel, star of successful films like Andaz Apna Apna, Mohra, Ghatak, Gupt and many others. Having been seen more in British films of recent, such as Run Fatboy Run, we managed to ask Harish if he missed Bollywood films, to which he replied: "Bollywood is Bollywood"! Take that a big fat YES!
All in Good Time will be released across UK cinemas on 11th May 2012, with plans to release it worldwide soon.
Stay tuned to Bollyspice as we bring you exclusive footage and interviews from the red carpet event…