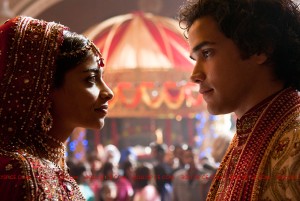 The stars of Ayub Khan Din's new offering All in Good Time have been dazzling audiences at the Glasgow and Dublin Film Festivals.
Over the past two weeks, Amara Karan, Reece Ritchie and Meera Syal have been busy introducing cinema-goers to the hugely warm hearted, comic tale adapted for the big screen from the Olivier award winning play 'Rafta Rafta'.
Centred around a close knit, larger than life British Asian family living in present day Bolton, All in Good Time stars Reece Ritchie (The Lovely Bones) and Amara Karan (The Darjeeling Limited) as Atul Dutt and his young bride Vina, for whom the first taste of married life is proving far from straightforward.
Amara says of the response from the festivals: "The Glasgow audience was the first to see the film in all its glory. We couldn't have asked for a warmer reception and reaction to the film."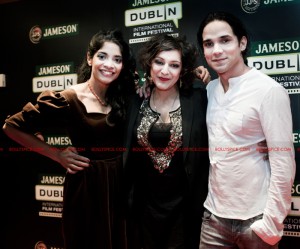 Reece, who plays the young and rather frustrated groom adds: "It was really encouraging to meet audiences and get their feedback. They completely got the cultural idiosyncrasies and humour, but also loved the sensitivity that Ayub always manages to pull out of the bag."
Harish Patel (Run Fat Boy Run) and Meera Syal (Anita and Me) reprise their roles from the original play as Atul's parents, Eeshwar and Lopa.
Meera Syal says of the film, "Principally, it's a family comedy. What is great about Ayub's writing is he can turn on a sixpence, so you can be hilariously laughing one minute but then suddenly you're into something very real and dark and moving about family life."
All In Good Time is directed by Nigel Cole (Calendar Girls, Made In Dagenham) and produced by Oscar nominated Andy Harries (The Queen) and Suzanne Mackie (Calendar Girls, Kinky Boots).
The film is scheduled for release in May and is set to follow in the footsteps of Ayub Khan Din's previous successes East is East and West is West.