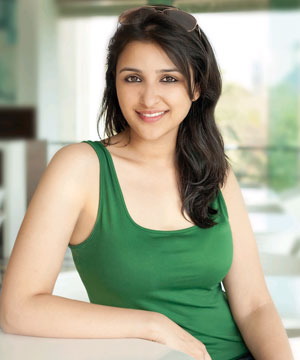 Parineeti Chopra may be enjoying the praise after her successful debut performance in Ladies Vs Ricky Bahl but one person's opinion means the most to the former Yash Raj marketing girl – cousin and industry megastar, Priyanka Chopra.  Seems Parineeti has nothing to worry about as Priyanka cannot stop raving about her performance in the film.
"Proud of my baby sis Parineeti Chopra! u go girl! More Power to the Chopras!!" Priyanka wrote on microblogging site Twitter.
Parineeti originally worked in the Yash Raj Films marketing department but through encouragement from co workers and friends found herself acting in a Yash Raj production.  That film is Ladies Vs Ricky Bahl which sees Ranveer Singh play conman Ricky Bahl who goes on to con Parineeti, Dipannita Sharma and Aditi Sharma.  The film also stars Anushka Sharma as sales girl Ishika, but so far it has been Parineeti's performance which has kept audiences talking.
Film critic Taran Arash commented on the actress saying, "Parineeti Chopra springs a pleasant surprise. She has wonderful screen presence and acts freely. In fact, the viewers would take to her character instantly".
While audiences enjoy her Delhi girl performance in Ladies Vs Ricky Bahl, we can look forward to her next film Ishaqzaade which is also produced by Yash Raj.