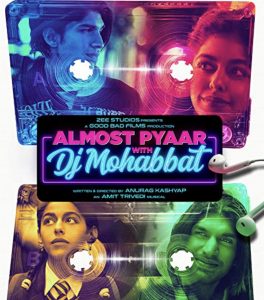 Almost Pyaar With DJ Mohabbat
Written & Directed by Anurag Kashyap
That annoying cackle! In one of the two love stories that are fused together in Anurag Kashyap's fascinating new work of heart, Yakub, the intellectually dim loverboy has a laugh like a hyena on heat which is hard to beat and anything but a treat.
Silly impetuous Yaqub(Karan Mehta) stalks silly adventurous underage Amrita(Alaya F). Somewhere in London another a struggling musician Hameet(Karan Mehta, again) is stalked by Ayesha(Alaya F), again underage, the rich spoilt pampered lonely daughter of a Pakistani millionaire who, according to Ayesha, bangs everything that moves.
In one of the film's most beautifully conceived sequences Ayesha tells the introverted Harmeet why she cannot help being his little lamb, why she goes all mushy when she looks at him.
It's a memorable monologue brilliantly performed by Alaya . She is most certainly a better actor than her grandfather Kabir Bedi and her mother Pooja Bedi. Karan Mehta is a notable find.He will find his way eventually.
The narrative scampers from Dalhousie to London and back again without skipping a beat. There is a virile fluency about the narrative quite difficult to pinpoint and define. But it's there underlining almost every scene.
What doesn't work at all is Vicky Kaushal's DJ act. Mouthing gyan and Gulzar as if he owns them, Kaushal is as annoying as Yaqub's laughter. The film needed a far more sturdy and centralized narrator. Not this idiot in a headband trying to be cool but remaining just a fool who has probably never been to school.
That apart, Kashyap packs in quite a punch in both the love stories. He lets the couple make massive blunders in their relationships and doesn't judge them. The mistakes in fact add a luster of unvarnished credibility to the going-on. Oftentimes, especially in the Indian segment, the lovers are shown to be muddled headed and reckless. But that, says Kashyap, is what makes them so much in love.
Almost Pyaar With DJ Mohabbat is a charming mix of fluid fantasy and raw realism. Sometimes it is hard to tell the fantasy from the reality. The coincidences especially the one that ties the two couples, are a bit too much Gulshan Nanda in Shakespeare. But that's what makes love what it is. A puzzle which only Gulzar's lines can define: Sirf ehsaas hai yeh rooh se mehsoos karo pyar ko pyar hi rehne do koi naam na do. Touche.