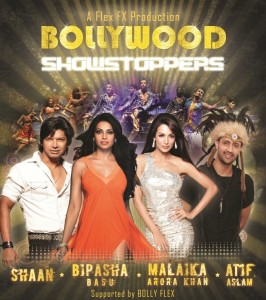 If 2012 was a rocking year for England when it came to the Golden Jubilee, Olympics and a host of Bollywood shows, then 2013 is just about to get even hotter… We have been telling you about the exciting show Bollywood Showstoppers coming in April now here's more with special news about how you can win tickets!
Hot off the success of Flex FX's amazing show last year headlined by Atif Aslam, they are now gearing up to bring an even bigger, better and kick-ass show. Yes, Atif Aslam is coming back again, but joining him this time will be India's darling, Shaan. Alongside the two dynamite singers, Bipasha Basu and Malaika Arora Khan will be adding to the glamour and glitz. Can we hear you say 'Munni Badnaam Hui'?!
Following the Birmingham show at the LG Arena on 5th April, Bollywood Showstoppers will be coming to London's prestigious O2 Arena on the 7th April, which is simply the most amazing concert venue in Europe and is home to all the major international concerts. Just the name of the 02 Arena guarantees a show of high standards and a world-class musical experience. Add the Flex FX dancers, who are celebrating 10 years of dancing magic, to the mix and you will be in for an absolute treat…
Naz Choudhury, Flex FX's artistic director, says, "Malaika is so excited about her performances, Shaan & Atif have got their full 80 minute live performances ready, Bipasha's act looks very unique. Bollywood Showstoppers will be 2 nights to remember. I can put my career on the line & say this 4 hour spectacular will be the best show I have created with Flex FX in the last 10 years."
In a cool promotion we have this exclusive competition for all our readers.
We have up for grabs 2 pairs of London tickets (02 Arena, 7th April) and 2 pairs of Birmingham tickets (LG Arena, 5th April). All you have to do is answer this question.
What Bollywood star is performing at the concert?
Send your answer along with your name and address to editors@bollyspice.com but be quick the show is coming up soon!
Stay tuned to BollySpice as we bring you interviews, videos from the show!