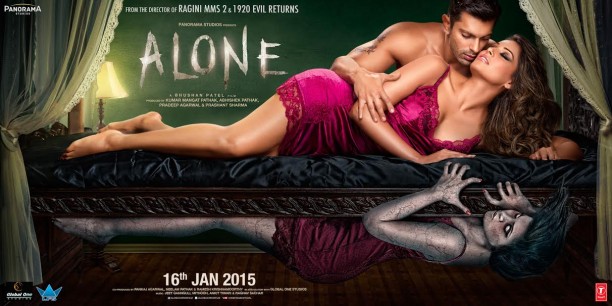 The makers of Alone are on cloud nine as this New Year has begun on a great note for them.
The trailer of their Bipasha Basu and Karan Singh Grover starrer has received more than 6 million views on YouTube. The much-anticipated horror film, which trended on No.1 position on YouTube for more than a week, has continued its winning streak and has become the most watched trailer in the horror genre.
By crossing the 6 million mark, the film's trailer has broken all the previous records set by superhit horror flicks like Raaz 3 and Ragini MMS 2. The movie has taken YouTube by storm because of its spine-chilling content and Bipasha and Karan's sizzling chemistry and has emerged as the undisputed winner in the world of horror.
While Ragini MMS 2's trailer, which released almost 10 months ago, has garnered close to 5.14 million views till now, Raaz 3's trailer has received 3.3 million views. By beating these films, Alone has bagged the numero uno position.
Alone has not only got a phenomenal response from the fans of the genre but also from many Bollywood celebrities, who took to Twitter to rave about the trailer. While Priyanka Chopra tweeted that she is "definitely watching Alone", ace filmmaker Karan Johar has found the trailer very "scary and intriguing". Bollywood superstar Hrithik Roshan "was blown away" by the trailer and he feels that it's "horror with elegance". Abhishek Bachchan found the trailer "scary as hell" and he also tweeted that he would never dare to meet Bipasha Basu Alone.
The film revolves around the novel concept of conjoined twins and the intriguing trailer has managed to entice the viewer's curiosity. Audiences have given a double thumbs-up to the trailer and now, they are quite keen to watch the movie.
Impressed by the trailer a fan posted on comment section of YouTube, "OMG OMG!!!!!! i nearly died during this trailer… ok no i am exaggerating a bit but this trailer is friggin scary and awsm!!! tbh after a while i hv seen a good trailer of a horror movie and it looks quite promising!!!! gr8 job!! #alone." Another user posted, "Very Scary,yet sooo sexy at the same time" and then there are also a few who say that they won't dare to watch it alone like Binita Chhetree, who commented, "Soo cool I want to watch it but not alone."
Bipasha essays the role of the conjoined twins, while Karan plays their love interest. As Karan showers his affection only on one out of the two, he always ends up being the apple of discord between the twins. However, all hell breaks loose when one of the twins dies under mysterious circumstances and comes back to haunt her sister.
Directed by Bhushan Patel, Alone has been produced by Kumar Mangat Pathak, Abhishek Pathak, Pradeep Agarwal and Prashant Sharma and is slated to release on January 16.
Watch trailer here: