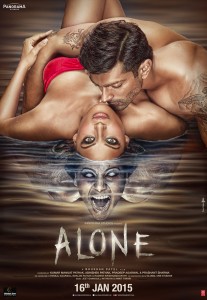 One of the most anticipated movies of 2015, Alone has not only been praised by the critics but also loved by the audiences!
Panorama Studios, Alone has garnered an amount of Rs 4.57 Cr on day one and Rs 4.45Cr on day two, which sums up to a whopping amount of Rs 9.02 Cr in just 2 days, a remarkable opening for a film in the horror genre.
The film stars Bipasha Basu and Karan Singh Grover who have grabbed eyeballs and praises from the audience! Well, with such an amazing start we are sure that Alone is going to have a smashing weekend at the box office!
The film is Produced by Kumar Mangat Pathak, Abhishek Pathak, Pradeep Agarwal & Prashant Sharma and Directed by Bhushan Patel.
Catch the film in theaters near you!