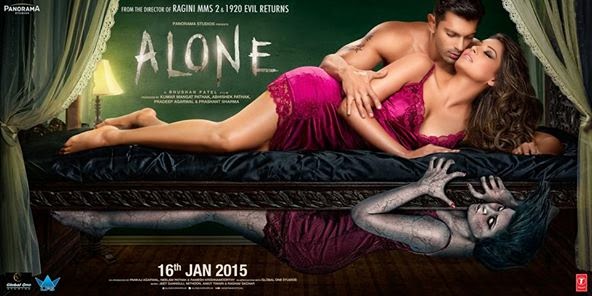 In a recent interview Bipasha Basu very earnestly claimed that Bhushan Patel's earlier films were heavily influenced by others and that Alone is his first film which is truly 'his'. Now having seen Alone we can safely say we prefer the influenced Bhushan Patel. Sure 1920 & Ragini MMS 2 weren't path breaking cinema but what they did manage to do was keep you remotely engaged.
The makers of Alone try to combine stock standard background scores notes and Bipasha's excruciating heavy breathing and screeching cries and hope the outcome is an engrossing horror film. What they forget is that somehow you also need to ensure the audiences remain in the seat for the duration of the film, which is quite the challenge when enduring Alone.
High maintenance wife Sanjana (Bipasha Basu) is a continuous whine fest. You don't spend time with me, you're different now, I just want it to be you and I, yada yada yada. Her conversations with business debonair husband Kabir (Karan Singh Grover) doesn't extend beyond this. Just when he's trying to argue some sense into her by claiming that the Mumbai luxury life has a high price and the alternative is to go back to Kerala, a convenient phone call compels them to do just that. Apart from Sanjana's ailing mother Kabir & Sanjana return to Kerala to also encounter Sanjana's twin's bhoot. Anjana, the conjoined twin is price the twins separation operation had to pay and now, predictably, her aatma is back to seek revenge. The rest of the story is a whole lot of creaking doors and swings, flicking lights, barking dogs and typical b-grade film ishtyle sexy rendezvous in the jungle for the lead pair.
There is absolutely nothing in Alone to warrant you to sit diligently for 2 plus hours without wondering if there's anything better you could be doing with your precious time. Sheershak Anand and Shantanu Ray Chibber's adapted screenplay from the Thai original has old school horror tricks and predictable twists and turns which are no where near enough to capture your attention. To add to that there's Shafguta Rafique's dialogues which merit an eye roll at every other moment.
Sometimes a bad film can be saved by good performances. Alone is not that film. Bipasha Basu is supposedly our uncrowned horror queen yet we get nothing impressive from her. It's a lot of heavy breathing and wailing. Frankly you're glad when there's a scene where she is required to utter no lines.  Karan Singh Grover has an impressive debut and is possibly the only thing watchable about the film. One does wish his acting prowess were given more importance than his body, which although may be impressive but is simply too in your face.
Alone fails to scare or entertain. It has a predictable climax, an annoying as hell female lead protagonist and cheap thrills that you've stopped falling for a long time ago. Save yourself the trauma and leave this one alone.