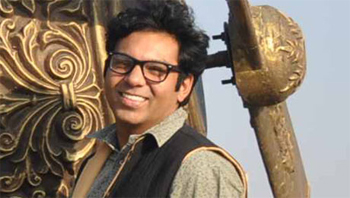 Flying into theaters this Friday is Hawaizaada, directed by Vibhu Puri and starring Ayushmann Khurrana, Pallavi Sharda and Mithun Chakraborthy. The film, set in Colonial India, 1895, tells the tale of Shivkar Bapuji Talpade, who invented the first flying plane, which was in fact eight years before the Wright brothers. It also tells the story of the man, his love, his mentor and the struggles he faced to make his dreams fly.
Making his debut as director is Vibhu Puri, but you have heard his work before. The young filmmaker wrote dialogs for both Guzzarish and Sawaariya, and also was the man behind the lyrics for the great songs of Guzzarish.
Puri also wrote the script for Hawaizaada and from his answers in the Q and A, you can tell that he has a real passion for the inspirational story of Shivkar Bapuji Talpade.
As a new director, what was it like working on a film like Hawaizaada?
It was great! Of course sometimes it was as hard as creating the first aircraft, but I was honoured to be offered the opportunity and I hope the audience enjoys it as much as I did!
We heard you did a lot of research for the movie, as not much has been written about Talpade. Is it true?
Yes it's true! I did extensive research as I wanted to gather maximum information about the scientist to give a realistic feel to the movie. I got in touch with some of his family members to get to know the man better. I also visited the research institute in Pune which holds a proof that scientist Shivkar Talpade actually flew an aircraft in Chowpatty in 1895.
What made you create another historic movie just after the Chenab Gandhi project fell apart?
When my dream project Chenab Gandhi fell apart, I felt totally shattered. Many friends from our film fraternity advised me to work on soft movies as they score well at the box office these days. But such movies don't interest me at all. I always wanted to make movies which would touch people's heart and make a difference to their lives so; I decided to go back in time to recreate the life of a man who flew the first plane in India.
What motivated you to choose Bapuji Talpade as a subject for your biographical movie as against other famous Indian historical personalities?
The very reason that not much has been written about the scientist Bapuji Talpade inspired me to tell his life story to the audience. I can say Talpade was a dreamer just like us. He taught us to try our best in life and never give up. I find his life journey truly inspirational and I am confident the audience will like him too.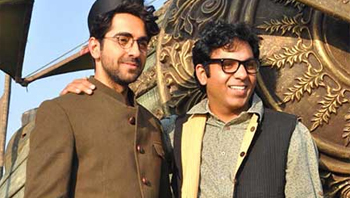 Was it very difficult to find the right location to recreate the 19th century Mumbai?
The hunt for the right location for the movie took a lot of our time. It seemed impossible to find a place to recreate second half of 19thcentury in present day Mumbai. We went all the way to Darjeeling, Kolkata, Oooty, Kalinpong, and many parts of Gujarat until we found Gondol, a little town in Gujarat where my art directors Amit Roy and Subrato Chakraborty built a Mumbai that existed when Bapuji Talpade dreamt his amazing dream.
Where you skeptical while casting the upcoming actor Ayushmann Khurrana to play the role of the 19th century scientist?
I saw my Bapuji Talpade in Ayushmann. I was adamant on my decision though everyone around me kept saying he is too cool to play a 19th century scientist. Now, I can take pride in saying that I have proved them all wrong. And the credit goes to the actor for his sheer dedication and commitment to the script & the role. Ayushmann worked hard to completely transform his lifestyle, body language and speech pattern. He has took Marathi lessons from our Maharashtrian scriptwriter.
Hawaizaada hits theaters on January 30th.