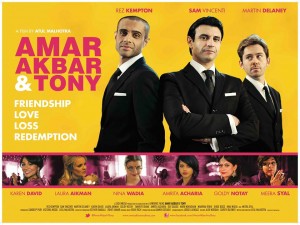 The cast and crew of the highly-anticipated feel-good comedy romance, Amar, Akbar & Tony gathered at the Gate Theatre in Notting Hill recently for the film's exclusive first screening since its completion in August this year.
In attendance at the screening were cast members including Rez Kempton, Laura Aikman, Goldy Notay and Martin Delaney. They were joined by none other than the powerhouse couple of Indian cinema, the legendary Shabana Azmi and Javed Akhtar, who posed with the cast and crew for photos after the screening.
The film's title is a sly, engaging take-off on a popular 1977 Bollywood lost-and-found comedy, Amar, Akbar, Anthony, about three brothers separated in childhood. The film made a strong, good-humoured plea for India's divided people to integrate when it came to the caste, class and social divide. Atul Malhotra transposes that theme to the Indian diaspora. Amusing, ironic and harsh in turn, the film sees the rigid social taboos that can affect and distort the young and the families they interact with. It does so through the eyes of three childhood friends looking for love in multicultural London. Interracial romance, violence, sexuality, family, love and loss are themes that are explored and shared by Amar Akbar and Tony, over a ten-year period, as the trio deal with the absurdities of life.
The film also includes appearances from Asian comedy veterans Meera Syal as the voracious Honey and Nina Wadia as stern matchmaker Seema. Not to mention a screen debut for rapper Shide Boss and an original soundtrack by Rishi Rich.
Written and directed by Atul Malhotra, Amar, Akbar & Tony is scheduled for release in early 2015. Speaking at the event, Atul commented "the project has been a real labour of love for all involved and I'm so happy that we have completed the film on schedule. I hope the audiences enjoy it as much as we have enjoyed making it. It was a privilege to have Javed Akhtar and Shabana Azmi at the private cast and crew screening. It made the occasion all the more special."
Amar, Akbar & Tony is due to go on general release in early 2015. You can support the film by following on www.facebook.com/AmarAkbarAndTony or Twitter: @AmarAkbarNTony