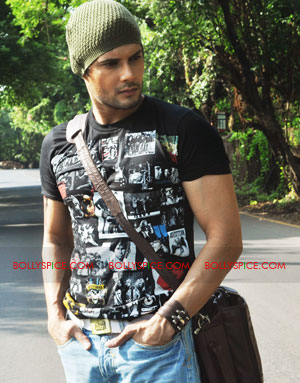 Even as Akashdeep Saigal (alias Sky) slyly tries the nastiest tricks in the book to provoke and insult co-contestant Amar Upadhyay on Bigg Boss, the latter is emerging the coolest Housemate on the show, keeping a dignified silence with a lot of self restraint.
After Akash spoke about Amar's family in a derogatory manner on the show and also falsely accused him of having an affair with evicted participant Miss Afghanistan Vida Samadzai, his scathing and malicious attacks on Amar continue. Calling him an out-of-work actor, a repulsive-sounding Akash even said that Amar was a good-for-nothing, whose only claim to fame was his character of Mihir Virani in Ekta Kapoor's Kyonki Saas Bhi Kabhi Bahu Thi.
The latest episode of Bigg Boss saw all the Housemates excited when the day begins. They dance to the wake up song. However, things take a turn for the worse a little later. Amar is working out in the exercising area when Mahek Chahal, Akash and Juhi Parmar come there.
Akash starts taunting Amar by stating that he has had a "failed career" before the show. Amar does not react. Akash then tells him that he will continue to suffer once he gets out of Bigg Boss 5. Amar still does not react. Akash then mocks at the way Mahek speaks and insinuates that Amar is having an affair with Shradha Sharma. Amar finally breaks his silence and sternly says that all the girls in the House are just his friends.
Akash then announces that Amar was also seeing Vida as the two were very friendly. Amar raises his voice a bit and tells him that there was nothing between him and Vida, and he is a happily married man.
"Amar is a devoted husband, a loving father and a God-fearing person, who practices yoga and meditation to keep his calm. Akashdeep has been mistaking his silence for his weakness," says Amar's publicist Dale Bhagwagar.
He adds that "Amar is a level-headed and upright person, with a lot of self-esteem. Though he is a no-nonsense guy, he has realized that it is almost futile to react to Akash's monkey business. But that doesn't mean he will take it lying down for long. Akash is continually hitting out at him by trying to offend, insult or defame him, and there might come a time, when Amar might be forced to put him in place in his own language."
Amar Upadhyay's family is extremely hurt and furious by Bigg Boss contestant Akashdeep Saigal's unsavory remarks and defamatory attacks on the personal life of the actor and plan to initiate legal action against Akashdeep, informs Amar's publicist Dale Bhagwagar.
Behind the actor's back, Akash was seen bitching about Amar to contestants Juhi Parmar and Shradha Sharma, uttering spiteful and vicious things about him.
"Jo aadmi (Amar) apni biwi aur bachchon ka nahin ho sakta… yahan par woh Vida (Samadzai) ke saath apne gulchhade uda raha hai… woh aadmi kiska ho sakta hai?… Usse pata nahin ke kaise dikhega woh wahan pe," said Akashdeep on Bigg Boss. "Mereko toh pata bhi nahin tha ke iske do bachche hai… iski shaadi hui hai! Press waalon ne mujhe bola toh I was shocked," he added.
"What Akashdeep Saigal is saying is totally false and amounts to slander and defamation. Amar's family is concerned and upset over such incorrect and nasty remarks which vilify and malign their image on national television. They plan to take legal action on Akashdeep," retorts the actor's publicist.
The PR specialist also points out that Akashdeep is lying about being unaware of Amar being a married man. "Akashdeep is not only aware of Amar's martial status, but has also met Amar with his wife at a party and interacted with them together before. Amar's family is stunned to see Akashdeep continuously indulging in repulsive misleading statements and such character assassination on the show."