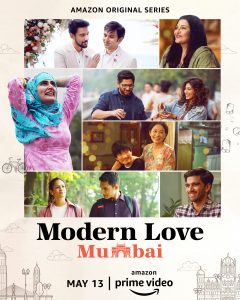 Modern Love: Mumbai (Amazon Prime Video)
Six films directed by Alankrita Shrivastava, Hansal Mehta, Nupur Asthana, Vishal Bharadwaj, Dhruv Sehgal, Shonali Bose
Three of the six films—we can't call them episodes as they are all self-contained independent narratives—are absolute winners. The stand-out films here are clearly Hansal Mehta's BaaiVishal Bhardwaj's Mumbai Dragon and Shonali Bose's Raat RaniThe last being special for Fatima Sana Shaikh's rousing performance, but more on that later.
Hansal Mehta's Baai features Pratik Gandhi as the scion of a conservative Muslim family struggling in the closet. Rich in ambiance and brimming with romance music and elegance Baai is a classic representation of what can be done in the OTT space if a filmmaker has his heart set on it. While Pratik and debutant Ranveer Brar are splendidly paired as lovers, Baai brims over with wonderful actors in even the smallest part; for example, look out for young Dhaval Thakur in one sequence where he steals a kiss with Pratik on the stairs. And such a delight to see the great Tanuja as the family patriarch saying a line like, "Main toh paydayashi khubsoorat hoon," with such casual elan.
Vishal Bharadwaj's Mumbai Dragon is the director's best work in ages. Warm and witty, wise and thoughtprovoking, it takes the age-old struggle between Mother and Beloved over the man in their life into the North East and turns the conflict into tragic-comic comment on racial segregation and cultural assimilation. The beautifully shot short-film with long legs, boasts of a fabulous central performance by Chinese actress Yeo Yann Yann as the ferociously possessive mother smothering her son with food food and more food. Naseeruddin Shah puts in a gamely cameo as the family's Sikh friend.
As for Shonali Bose's Raat Rani , what do I say about Fatima Sana Shaikh's performance as a super-spirited Kashmiri woman suddenly deserted by her husband? We can see Fatima's layered character Lalzari picking up the pieces of her broken life and stringing together an all-new narrative for herself, as she learns to control her peddling on the rickety bicycle, negotiating her way through the no-entry zones of life. Fatima's efforts to get into the skin of the character, and that includes a lot of physical labour, pays rich dividends. Shonali Bose's beautiful film on starting again comes to vivid life.
The other three stories are not quite in the same league as the triumphant triumvirate.
Dhruv Sehgal's I Love Thane is the best of the inferior threesome. Masaba Gupta is impressively in character as a not-so-young woman trying to find companionship in a staid decent boy from Thane. Segal's film would have benefited from better pacing. The storytelling is sluggish at times.
Alankrita Shrivastava's I Love My Wrinkles is a disappointment , coming as it does from the director of Bombay Begums and Lipstick On The Burqa. Sarika plays a widowed 60-plus woman who invites a young jogger(Danesh Razvi) from the street below into her home for coffee. One things leads to another….there is nothing here to grab our attention beyond the done-to-death 'Mrs Robinson' syndrome. The Kitty party sequences look familiar as though we've been there…
Finally, the weakest film of the anthology is Nupur Asthana's Cutting Chai . Chitrangda Singh plays a woman who has neglected her career long enough for husband Arshad Warsi who says trite things like, 'Life is as simple or complicated as you make it'. Now the wife wants to bounce back. The storytelling is selfconsciously fey, with commuters at the railway station suddenly turning into chorus dancers. Quite suddenly , the wonderful Mita Vashisht shows up whispering to Chitrangada, "You have it in you." Wish we could say the same about Nupur Asthana's film.
On the whole, Modern Love: Mumbai is light to the touch, and lovely to watch. The image of Fatima Sana Shaikh cycling on a flyover with not a care in the world, lingers.