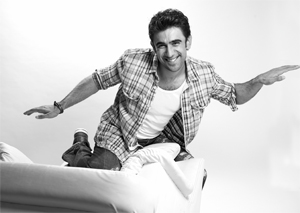 Amit Sadh launched his Facebook and Twitter pages today. This move will help him stay connected with his ever growing fan base. Which other platform lets one connect with their fans, on such a personal level!
Amit Sadh began his career on TV, where he soon became the nation's heart-throb. Then, when he debuted in Bollywood with Kai Po Che, he made us sit up and take notice of his scintillating performance. The movie was appreciated by the audience and critics alike. He has also signed a film with UTV Motion Pictures, which is rumored to be a rom-com. Now that the young actor's future looks bright, Amit has decided to get on the digital bandwagon to get up close and personal with his fans.
Amit wishes to be in touch with his ever-growing fan base and is looking forward to feedback from his them. His timeline on Facebook dates all the way back to his childhood days, featuring both personal & professional information about him. Besides featuring his past work, the Facebook page also reflects Amit's personal side by giving out details about his interests & inspirations.
Thrilled about the Facebook launch, Bollywood actor Amit Sadh said, "I am a people's person. I love getting feedback from people who have seen my film. It is them, who make me feel upbeat. It's their words that put me on the right track, whenever I am faltering. I thought…there's no better way to let them get close to me, than being on Facebook. I am now on Twitter too."
Amit is extremely excited with the page launch and is looking forward to connecting with all his fans and sharing more information with them in the days to come. Get the latest updates about Amit Sadh here – facebook.com/TheAmitSadh
You can also follow Amit on Twitter @TheAmitSadh