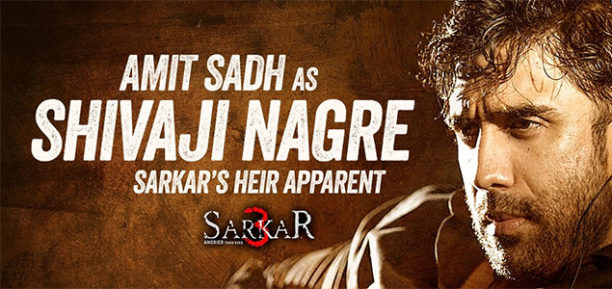 Ram Gopal Varma is back with the third installment of Sarkar. Amitabh Bachchan reprises his role with trademark intensity and fiery anger. Sarkar 3 also features an amazing cast including Manoj Bajpayee, Ronit Roy, Amit Sadh, Yami Gautam, Jackie Shroff and Rohini Hattangadi among others.
Talented actor Amit Sadh was tapped to play the very intense role of Subhash Nagre's grandson Shivaji and from what we have seen so far in the trailers he has totally immersed himself into the role and the world of Sarkar.
I had an absolutely amazing conversation with Amit about his role in the epic drama Sarkar 3. It was even more special because he opened up about his thoughts and dreams about acting. Check out what he had to say!
So you are contacted by Mr. Ram Gopal Verma who says I would like you to be a part of a film, then you find out it is Sarkar 3, then you find out you will be acting opposite Amitabh Bachchan… what was your first reaction?
I was tongue-tied! I had lost all my memory! It really was like a main moment. It was like wow, miracles really do happen, right? I have been just very excited ever since – every day from that day until today. And now what we have done is coming out.
Tell us about your character Shivaji and who you think he is.
Actually to be honest, I would like people to watch what Shivaji is and enjoy that. The single thread for me, while prepping for the role, is that this is actually what he is, in fact the best introduction I can give you for Shivaji Nagre, for who he is, is that he is Subhash Nagre's grandson. You know Subhash Nagre very well. You saw 1, you saw 2, people saw what he stands for, his ideologies, so basically just Subhash Nagre's mind. This is a line which my character says in the trailer that came out about a month back, that 'Yeh mat bhoolo ke mein kiska pota hoon (don't forget who's grandson I am)'. So basically that's best introduction that I can give to you right now about my character is that he is Subhash Nagre's grandson.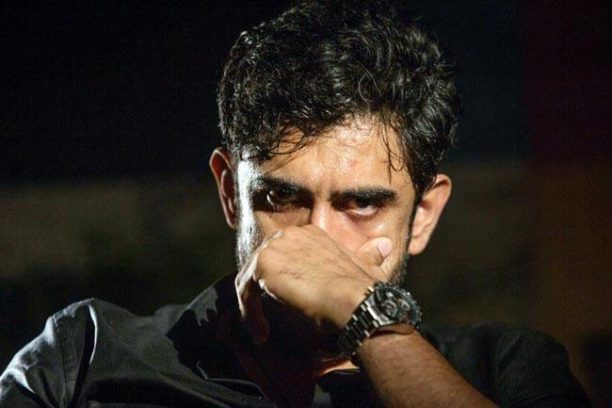 He is very intense. How do you get yourself into place to play such an intense character and have that intention come out of your eyes, come out of your being?
Well, as you said, intention comes from intent. Also I feel that when an actor like Amitabh Bachchan stands in front of you or you are in front of him and he is so present in the scene, he is so there, he just makes you look good. He inspires you to give your best. He inspires you to dig more, do more, think more, be present more. He does so much. I hope people like the film and I hope they like what I've been able to achieve in creating this beautiful character called Shivaji Nagre. A huge credit, in fact all the credit, I give to our director Mr. Ram Gopal Varma. Ramesh sir, the way he handled me – he is almost like a whisperer, I call him a woodpecker director. He is always saying something in your ear. Sometimes you feel it is relevant or irrelevant… When we are on the floor shooting a scene, subconsciously I went like, 'Man he's already told me so much – now you just have to go and do.'
I also draw a lot of inspiration from my real life. If you see the intensity I have achieved it is effortless. I think it is effortless because of my hunger for my craft, my eagerness, my desire to act, to make my characters come alive. I think, I have a lot of intent in life and I think that helps me to do an intense character with so much ease.
Is it hard to let go of a character at the end of the day's shoot?
No, but the whole thing is I am not an indulgent actor. I know acting is just a job. You just go you do your job and come back and be normal. In fact, my method is to be very normal. Sometimes when I walk into set I am actually wearing shorts and a t-shirt or a vest, my hair is not done and I am wearing slippers or loafers. People look at me and say is this the leading guy or is this the guy in the back now?  I like being normal. I have seen a lot of great actors in this world who are very normal and when the camera comes alive they come alive and the character comes alive. The camera goes off and the character goes off and they themselves comes alive. I am very blessed with that kind of thought that I am just normal. I go do my job, come back to my dog and come back home to my normal life.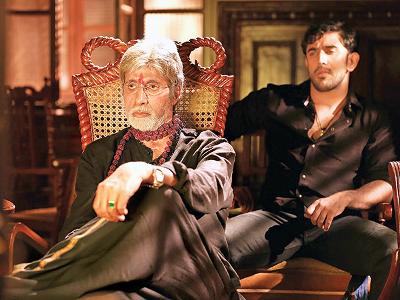 So first day, first shot and you are standing with Mr. Bachchan…
It is like a bullet, it is like an AK-47 coming out and hitting you… boom! You are just frozen. To be honest, jokes apart, it was a great shot. It was a great moment. But to be honest I was just doing acting. I was doing my part. People ask were you nervous, people ask were you petrified… I mean, I chose to be an actor so why should I be nervous? It was my dream to act. It is a dream to act with Mr. Amitabh Bachchan and now it has come true – so why should I be nervous? I am going to make the most of this opportunity to be in front of him. I have enjoyed every second of being around him, being in front of him, being in the scene, watching him. From first shot to the last shot to every time that I see Mr. Amitabh Bachchan I can just say that I have so much love and respect and adulation. As a fan of Mr. Amitabh Bachchan and now that I am his co-actor as well I can say now I know the reason why he is Amitabh Bachchan because I have seen him from so closely. Now I know why he is what he is. What he stands for and what he has achieved – now I know why. I told Mr. Bachchan that if I can be like 10% of the commitment and the hard work and the honesty of everything that you are – I think I am done for 20 years.
Can you see yourself have a career like his? He is going on, I think 48 years in the industry…
You know, the strange thing is and I have never told anyone this – I am telling you this. In fact, nobody has asked me, you are the first person to ask me. Genuinely, people ask you these very technically lame questions, especially in India. In the West we still understand that movies are made with an ensemble cast, that every character is important. I am sure when a Mark Wahlberg or Christian Bale are in a film they don't say who is the lead, who is not the lead. They go and they do their parts. In India, everyone wants to ask you the question, 'So when will you be the main lead?' Or 'Right now you are doing characters' blah, blah, blah. I will never be able to comprehend or completely understand where they are coming from or why we have to speak this language. For me, the thought has always been not that I going to be a star, superstar or actor or 4th actor or 3rd actor. For me, it is always characters. I want do great characters that leave an impact on the film and on the viewer. I have this deepest desire, which is also a little lame and well a little indulgent – I want to act for 50 years! And that inspiration does come from Mr. Amitabh Bachchan. I want to keep acting! That is what I am most inspired by by Mr. Amitabh Bachchan because to long for 50 years and to keep acting for 50 years is just so beautiful.
It is so beautiful to see that he still has that passion and to learn that you want that too is just so amazing.
Yes! I hope! But people have to give me the opportunity to do that. But again always if you have true intention and the right intent you get what you want. Again, I don't think Mr. Amitabh Bachchan acts to be a superstar, he already is such a super, super star and he's seen superstardom, I am sure he must be bored with it. He acts because he wants to act! You can see that, that is why his acting is so effective. If I act for petty reasons and I give a shot and I have in my mind 'oh I want to be a superstar' – I don't think that Mr. Amitabh Bachchan, when he is acting, ever has that thought. He just wants to act! That is what I take from him! That exuberance, that excitement, that neediness that he has, still, to act. I have never seen anything like that in my life in any other actor.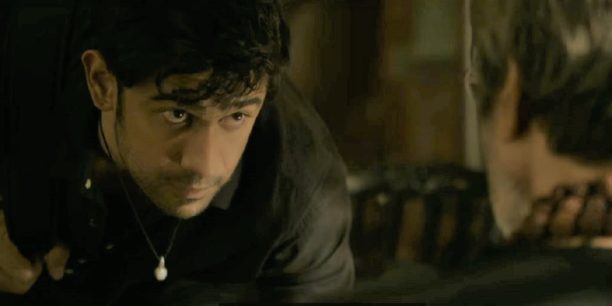 I saw a cool quote on your Twitter by Annette Benning, "Acting isn't about being famous, it's about exploring the human soul."
Exactly! Yes! I firmly, firmly, firmly believe in that!
That must be so cool to be able to step into these characters and find different aspects and be different people.
Yeah, it is very healing actually. Trust me! I actually call acting a psychiatrist that saves me. (Laughs) Trust me I am pretty messed up! But my characters and films and this life just keeps healing me. I am just very, very humbly grateful to every film. To every character, actually, that I have played. I just hope it continues!
What do you think of your performance, have you seen the entire thing? How do you feel you became and are Shivaji? 

I haven't because this one was done on synch sound. Generally you will see it from the dub but we have not dubbed this film. Ramu sir has been very kind and sometimes made me see a few scenes. Mostly, it was like, 'Oh go watch this scene. Mr. Amitabh Bachchan is very good in these scenes'. So I haven't seen the whole film in one go, yet. It definitely is out of my context now. I just lose perspective on a film once I am done with it. Even then I never have a perspective of my performance. I am just happy that I get great directors to direct me well. I don't know. I just hope that when the movie comes out and when Mr. Bachchan sees the film, Ramu sir sees the film, the audience sees the film – I just hope that they love the film and I hope that they like what I have done.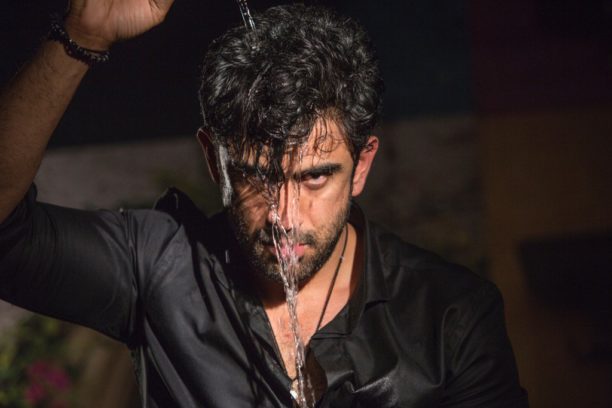 Can you tell us about your upcoming films?
After this I have another couple of films that will release. I have two films with Mr. Tigmanshu Dhulia, a very, very, very amazing, fascinating director in our film industry. One is a war film about the Indian National Army, which was a very big army by Subhash Chandra Bose in 1945. It's the historic INA (Indian National Army) trials between the British Army and these three soldiers. Then I have a typical retro gangster film, it is sort of a Western. So you will be seeing a lot of me. I also have a show on Amazon coming up as well that I just finished filming. It will be on Amazon Prime in September. So you will be seeing a lot of me now.
The interview ended with me saying "Thank you" and his reply was,"Thank you for the amazing questions". For me, I have to say thank you for the amazing answers, it truly was wonderful to have this conversation with Amit Sadh. It was one of my favorites and I hope for more in the future.
Be sure watch Sarkar 3 in theaters tomorrow!