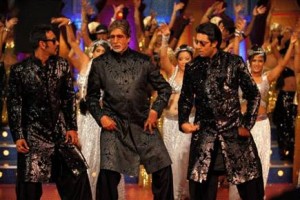 Yes, we have the three A's and three of the best in Hindi cinema Amitabh Bachchan, Abhishek Bachchan and Ajay Devgn grooving to the beat of Bol Bachchan's title song!
Not only has Mr. Bachchan made this cool cameo, he also sung on the track, he said earlier, "I spent the day recording for the song to be picturised on Abhishek, Ajay and myself for Bol Bachchan, a film directed by Rohit Shetty. It seemed a fun song, with lyrics and words taken from some of my old ones." You may recognize some of the scenes and some of the iconic dialogues in the song video including Anthony Gonsalves from Amar Akbar Anthony and other dialogs from his films.
Interestingly Mr. Bachchan says he is nervous before a song shoot, "Song and dance have always been a major crisis for me. Moving singing expressing among some exquisite professionals, makes you feel so inadequate and useless. Here in song, with the broadest smile, giving impression of great fulfilment and happiness can be one of the most fake expressions ever devised by actors," he wrote on his blog!
They all look fab to us in the choreography by Chinni Prakash to the rocking beat by Himesh Reshammiya. We can't wait to hear more! Check out the fun and colorful video!
httpvh://youtu.be/msLvFSzPbSs
Do we also hear Ajay singing…
Releasing in theaters on Friday, July 6, the summer's biggest Bollywood comedy reunites the superstar Golmaalteam of Ajay Devgn and director Rohit Shetty with some real Bachchans along for some mischief.