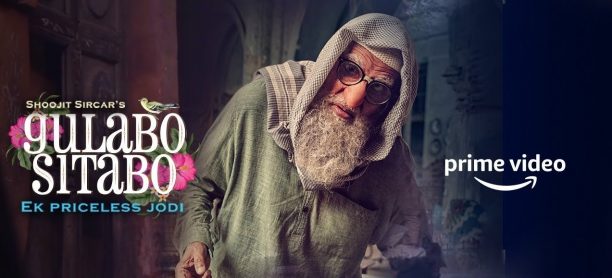 Gulabo Sitabo directed by Shoojit Sircar, is all set to premiere exclusively on Amazon Prime Video on June 12, 2020. The film stars Amitabh Bachchan and Ayushmann Khurrana in a quirky hilarious battle of wits.
Welcome to the World of Gulabo Sitabo where two slimy scheming foxes in a game of one upmanship, each one attracting other members to their clan and each one with an agenda of his own. Meet Mirza (Amitabh Bachchan) – a 78yrs old landlord, who would move heaven and earth for his most prized possession – an old Dilapidated Mansion in the heart of Lucknow. But this garden of roses comes with its own cluster of 'pricky thorns' – tenants. Amongst them most prominently, Baankey (Ayushmann Khuranna)' a shrewd, sly and squatted tenant, who matches Mirza bit for bit in their ceaseless bantering.The two are equally sly and crafty, making for hilarious banter and playful chaos.
Check out the trailer!
In this special Q and A interview, the esteemed actor Amitabh Bachchan talks about all things Gulabo Sitabo including his character Mirza, working with director Sircar, bantering with his co-star Ayushmann Khurrana plus so much more!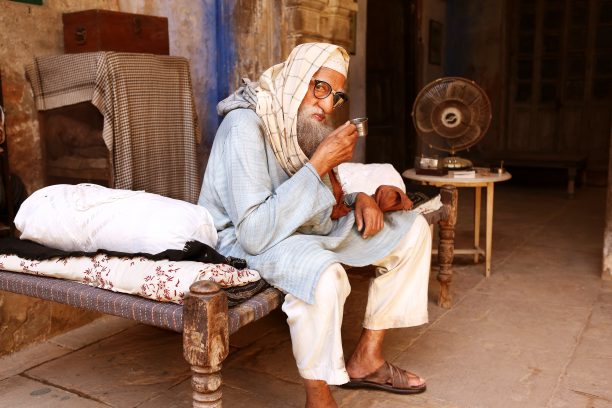 About what made him decide to be a part of the film, Amitabh Bachchan said, "Gulabo Sitabo came to me from Shoojit Sarkar, and when he chooses for me, I never disagree." Adding, "I was excited about my role since the first time Shoojit showed me the character's look."
The actor had nothing but praise for his director, Shoojit Sircar, "What I have developed over the years working with Shoojit is an immense respect for his craft, his understanding of the subjects he chooses to make and the great cinematic guile he possesses in designing his characters. Directors are all-rounders. They possess immense qualities. They are scriptwriters, screenplay setters, production designers, music directors, editors, actors and marketing and publicity gurus. Shoojit is in command of all these qualities. Each time I have confirmation in my mind, that this is what Shoojit is thinking, he comes out and destroys it by giving me much better options in my thoughts."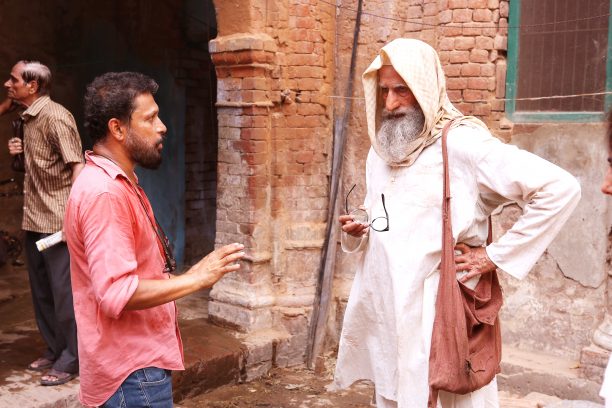 Mr. Bachchan also took to his popular blog to talk about how much he depended upon the director during the film's shoot, "His own personal briefings of the nature of his characters he brings up, are the results of the performances seen .. for me at least all that I do or seem to do, are Shoojit in prosthetic make up .. each little detail is brought out and suddenly there is an ease of the following that he wishes for .. we do what he enacts for us .. for me at least there is no individual output .. it is all his doing .. he tells , I follow ..", he wrote.
The actor was also was full of praise for co-star Ayushmann Khurrana, "Ayushmann is a most promising actor, of immense standing and caliber. I am honoured to have had an opportunity to work with him and learn. It is important to have an understanding colleague both on and off camera, and Ayushman has been more than that. I hope that he felt the same."
Adding, "I had a wonderful time working with my very talented co-star Ayushmann Khurrana. Even though we are constantly bantering in the film, it has been a pleasure working with him for the first time."
For his characte Mirza, which he emphatically says NO he does not see any of himself, Mr. Bachchan had to go through quite an extensive prosthetic process for the look of the character.
See

 
Revealing what went into the look for Mirza, he said, "Prosthetics take time and a great deal of care and patience for it to be successfully executed. For Gulabo Sitabo it was no less; 3-4 hours each day on the makeup chair. Shoojit came with a reference picture of how he wanted Mirza to look and the team simply followed, as did I!
 
"The challenge with prosthetics is the factor that it retains its look for the duration of the timings of a shoot. With our work done during the summer months of UP it was a difficult task to maintain that protocol. But it was managed, and the look does contribute to the character in the film."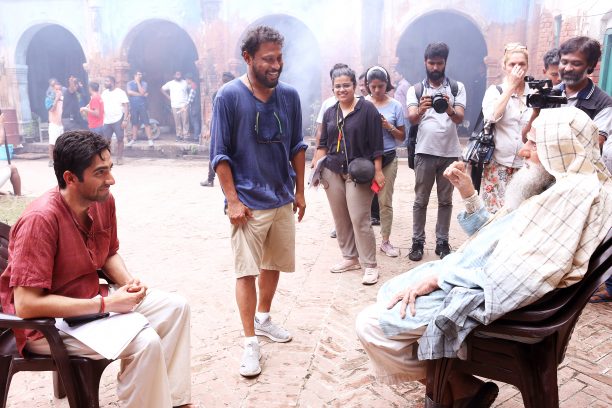 The film shot in Lucknow and it was, according to the actor, a wonderful shoot and perfect for the film. "Lucknow as a city has its great history, aesthetics and distinct culture. Shoojit wanted to bring all of that out in his story and he has succeeded to display the essence of this remarkable city in the film. Be it the locations the characters portrayed in the film, the language, and the ambiance, all of it. It's a wonderful blend and I am so happy that Shoojit chose Lucknow. There could not have been a better location. As far as Production goes, the management of the city authorities was impeccable. The people were generous, kind and understanding, as were they, 'shooting' friendly. We never faced any issues at all. And we worked in some of the most identifiable locations in the heart of the city."
Did you know that the film title has been inspired by the folk puppets local to Uttar Pradesh? The puppet show features two puppets named Gulabo and Sitabo, and the show revolves around two rivals who often trade insults and funny digs. The director revealed that they 'came across the Gulabo-Sitabo form of puppetry while making the movie, and we decided it could be a good metaphor for the story.' Talking about this Mr. Bachchan said, "Yes, the inspiration of Gulabo Sitabo came to Shoojit Sarkar after witnessing the puppet show in UP. I saw it for the first time on the net, when Shoojit introduced me to it."
 
The legendary star also touched on his thoughts on the new generation of actors, "The NEWGEN of the film Industry is a remarkable mix of confidence and extraordinary talent; something that I never had nor ever will. They are a very superior lot. I am in awe of them. Being in their midst is a learning, a huge learning for me. I do not know what 'raising the bar' means in a professional setting, but if there was a bar to be raised I do hope I was able to accomplish enough to comply!"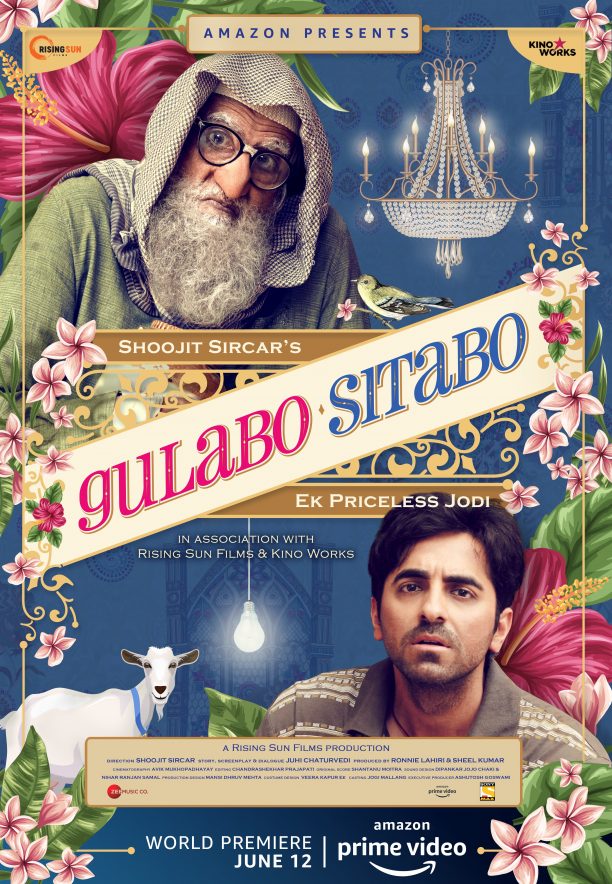 About the film and it's release on Amazon Prime, Mr Bachchan said he , "Gulabo Sitabo is a slice of life, dramedy that is a must watch for families at home. This family entertainer has the power to cut across geographic boundaries and we are pleased to bring Gulabo Sitabo to audiences across the globe."
Set to release Gulabo Sitabo will release across 200 countries and territories on Amazon Prime Video beginning on June 12, 2020. We can't wait to see it!
As a special bonus, check out the actor in action (pun intended) on the set of Gulabo Sitabo!