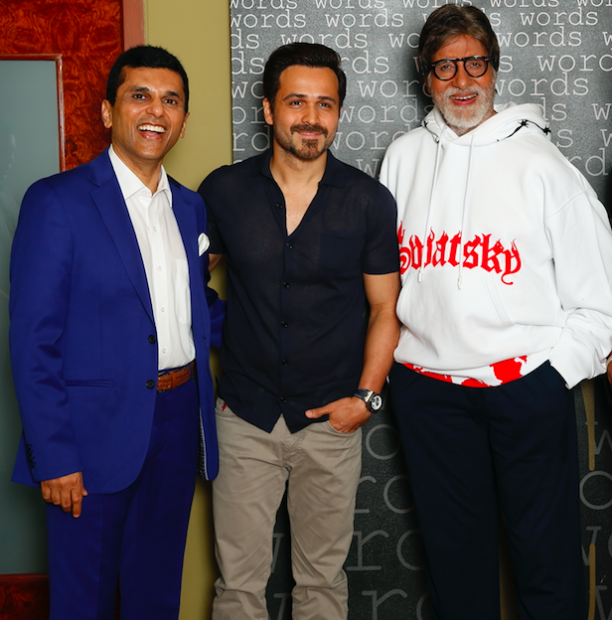 Here's some exciting production news! Amitabh Bachchan and Emraan Hashmi's untitled film goes on floors on 10th May in Mumbai. This will be for the first time that the actors will be coming together for an intriguing mystery thriller produced by Mr Anand Pandit and helmed by Rumi Jaffrey!
Confirming Producer Anand Pandit says,"We are extremely excited to commence the shoot of the film from 10th May. Looking forward to seeing Mr. Bachchan and Emraan onscreen for the first time."
"My friendship with Mr. Bachchan goes back a long way. I have not met any other actor who matches his skill and commitment. It is an honor to be a part of creating a film with him, and I have always admired Emraan's body of work, so am looking forward to seeing him onscreen with the legend for the first time. Given the subject of the film, I do believe we have a winner in our hands," he adds.
Hashmi for his part is extremely excited to work with Mr Bachchan in what promises to be a taut thriller. Emraan said on Twitter he was "Super Excited to share screen space with Amitabh Bachchan sir"
While the other details around the film are heavily under wraps, initial reports have suggested it to be a thrilling entertainer, keeping audiences by the edge of their seats to watch Mr Bachchan and Emraan Hashmi facing off against each other in pivotal roles along with veteran actor Annu Kapoor. The producer recently revealed, "It is a mystery-thriller that revolves around a group of friends, some of whom are retired lawyers. They meet at a bungalow in Shimla and play a psychological game. It's an intriguing story with Bachchan saab as one of the lawyers, while Emraan plays a business tycoon."
We will have to wait and watch for more!
The film is slated for release on February 21, 2020.