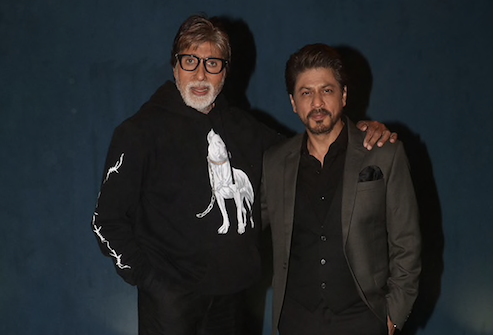 Amitabh Bachchan and Shah Rukh Khan shoot for special video for Badla
Do you know what happens when two Bollywood legends come together in a one of its kind candid chat? From singing and clicking selfies together to getting nostalgic and reminiscing old memories, get ready for some fun, masti and a whole lot of entertainment in Badla Unplugged with Amitabh Bachchan and Shah Rukh Khan. Coming out soon!
Stay tuned, as this is just a glimpse of the craziness!
Directed by Sujoy Ghosh, Badla, starring Amitabh Bachchan and Taapsee Pannu, Badla tells the story of a young dynamic entrepreneur finds herself in a locked hotel room next to the body of her dead lover. She hires a prestigious lawyer to defend her, and over the course of one evening, they work together to find out what actually happened. This highly anticipated drama will be releasing in cinemas on 8th March 2019 and is distributed by Reliance Entertainment.