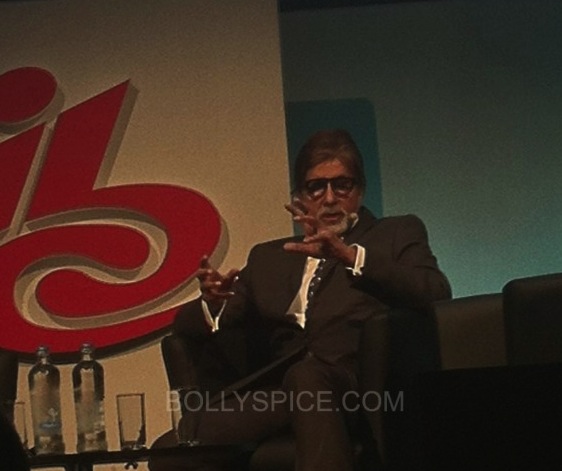 The special curtain raiser of IBC (International Broadcasting Convention on Friday the 13th was a centenary celebration of one of the most creative, and certainly the most prolific, dream factory on Earth – Indian Cinema.
From Raja Harishchandra, the first black and white silent film released in 1913, through to the critically acclaimed masterpieces of director Satyajit Ray to the diversity of Indian films today, Indian's passion for the moving image has seen it explode into the one of the world's largest film industries with a staggering 1000 films released annually and up to 3.6 billion in ticket sales.
New releases have an increasingly strong international flavour in their choice of stories, locations and globally recognised talent with directors and producers ever more adventurous in exporting Indian storytelling worldwide.
To celebrate 100 years of Indian Cinema, Living legend Mr. Amitabh Bachchan was invited as one of the keynote speakers at this convention. Bollyspice reporter Charla Manohar was present at the Convention Keynote and spoke to the legend afterwards on 100 years of Indian Cinema.
The session titled 'In conversation with Bachchan' was all about the esteemed actor's career. He talked about his early days, how he left his job at a multinational shipping firm Shaw & Wallace to follow his dream, landed in Mumbai with his driver's license, how he was rejected and how he decided that if this 'acting thing' didn't work out he would become a taxi driver. 


He started out by thanking IBC for having him and explained cinema. "Cinema has become a culture and me being at IBC is indication of its growth and certain amount of respect it's gaining worldwide."


He spoke on the start of his career and how writer Salim-Javed changed his life. "They wrote some great stories. In that time there was a need for an individual to stand up for the dissatisfaction in the country and I ended up as the Angry Young Man." 


In 1982, the near to fatal accident on the sets of Coolie happened. It was during his recovery that he realized the influence of cinema and his popularity. "There was this man who had said that if I got better he would walk backwards from his house to Mumbai. And he did." 

After the session Big B posed for pictures, gave out autographs to all the fans present. The hall became a madhouse. People outside of the hall, didn't know what was going all. But it was quite obvious; we were dealing with a superstar here.
It was time to get ready for the press event where we got a chance to talk with the as he has been called, 'one man industry', Mr. Amitabh Bachchan.


The content of Indian Cinema

In recent years we have seen a lot of changes within the film industry, whether we look at the use of technology or just simply storytelling. I asked him about the recent changes and how this impacts him as an actor.


"I think a lot of the contribution to that is from the audience. The audience wishes to see something different. They will dictate what kind of cinema they want to watch. That's the kind of respect we give to the audience. So when you say the content has been changing, it's really the audience that is changing. They have become more aware of things and thanks to communication facilities as mobile, television and the internet they have access to what is happening in the world."


Challenge for Indian Cinema

Bachchan adds that there still lies a challenge for Indian Cinema. "When they can see something on television, which is almost free of cost, why would they want to spend a larger amount of money to buy a ticket to see a film which perhaps is not in keeping with the kind of technology or presentation what they have just seen on television. This is a great challenge for cinema in today's time. We want to match up with anything that is of great technology value and then to fill it with content that is not seen somewhere else. There is an effort to make products that are technically more superior. And I find this a very interesting phase right now. Indian Cinema is going through, perhaps, one of its best phases."


Indian Youth

India has the largest youth percentage in the world and according to Bachchan it's the youth that makes filmmakers more conscious. "They are guiding us and pushing us towards a direction which they want. That's really important for us. They have ideas and thoughts, which make us more conscious. That's how the evolvement of cinema is taking place."


I asked him if this has any impact on him as an actor. "As an actor you do what the director says or writer writes. We are just tools to convey what has been designed for us. That's very interesting. Particularly at this age and this stage of Indian Cinema where different content is finding it's way to our scriptwriting to the way of presentation. It's a wonderful phase, I think, rather than to do something which is stereotypical…to be able to play different characters, to be able to perhaps make a comment on society through content…that's how challenging it is. We enjoy that, I enjoy that", he smiles.
Characterization of Indian Cinema
I continued by asking him how he would characterize the journey of Indian Cinema. "It's been wonderful. I feel cinema follows the path of what the country is going through. For example, in the early years there were patriotic films made, because we were fighting for our independence. Then we had all these moral and social changes that kept happening within our society, so films were being made on that, topics as the girl child, the presence of women in society. And how some of our old traditions were not to positive about the girl child. Now things are changing because society itself is changing. And I believe women are 50% of the force behind a country. There needs to be equality."
Women in the industry
Bachchan continues his story about women in films. "We know of the man who is the main lead, but in the last few years, also before that, but more recently we have seen a lot more films where the lady is the main character and where a whole story is revolving around her."
He went on to discuss the changes in the film industry regarding women. "There are a lot more women on set. In the last 3 or 4 years we have seen very successful films being directed by a woman. When I started out, the only lady on set would be the mother of the leading lady or a hairdresser. If you come on a set now, you'll see 80% of the workforce exists of women. That's fantastic!"
And they are not only into acting, but doing work that earlier only men used to handle. They are in cinematography, in production, in marketing, assistant-directors…In every department you'll find women and they are all very young. I am 71 now and I feel really terrible when I go on a set where the average age is 25. It's a great revelation and very enjoyable."
"It's great to work with this generation because they are so focussed. They know exactly what they want and are very determined, aggressive, sure and confident. We never had that kind of confidence in our time."
In-depth analysis of some of his films
Keeping with the theme of the day, I wanted to know which films in these 100 years could be termed as groundbreaking. He gave an in-depth analysis of some of the films he had done.
"With each decade you'll find some changes. Sholay is universally popular. There have been many films."

Saat Hindustani
"If I have to go through my career graph…I started my career with Khwaja Ahmad Abbas. His films portrayed his own personal thinking, which was very socialistic. He talked about equality. Saat Hindustani was about seven Indians, who wanted to go and liberate Goa, which was under the Portuguese. And all the seven Indians represented seven different cultures, religions, casts and creeds that existed in India. And he made each individual play an opposite cast than he was in real life. For example, I am a Hindu, he made me play a Muslim, a Bengali was asked to play a Sikh…and that's how his thinking was. He wanted a unified India and this was one way of doing it."
Influential filmmakers
"And then you have Hrishikesh Mukherjee, a great director who followed the middle path and was really close to realism, but at the same time these were commercial viable films. Then you had Salim-Javed as writers, who brought in very fine scripts for me. And makers like Prakash Mehra and Manmohan Desai, who was by the way the opposite of everything. He had fantasy and worked on that with such conviction that we would question him and almost laugh at him because of the kinds of things he would ask us to do."
Amar Akbar Anthony
He narrates an incident about the opening sequence of Amar Akbar Anthony. The sentiment, of brothers giving blood to their mother, is what we all remember. But when it was narrated, the actors apparently couldn't stop laughing.
"Just take the opening show of Amar Akbar Anthony. When he explain that to all three of us, Vinod Khanna, Rishi Kapoor and myself, we were actually laughing and said this guy has gone mad. I mean, there are three individuals, brothers, lying in a hospital with tubes of blood going out in one bottle and from that bottle one tube is going into a mother who is in need of blood. We said Mr Desai, this cannot happen in medical science. He said: Just shut up and do what I tell you to do!! But when that shot came up on screen, the whole audience just stood up and applauded. The sentiment that the brothers are giving blood to their mother who has to survive was understood. He said: who cares about medical ethics, this is how it is. So you had to respect him."
"Other makers, we have Ramesh Sippy for bringing in Sholay, making things larger than life. After that the next generation came. Mukul Anand who made Agneepath and Khuda Gawah with me, then Tinnu Anand with Shahenshah, and the next generation existing of Karan Johar and Aditya Chopra.


Indian Cinema is changing for the better and Mr. Bachchan, who has been around for nearly five decades, couldn't be happier. "Now every Friday you have a young boy, who is unknown, who makes a film with unknown actors and hits the jackpot."

 On that note, the press event ended. He stayed on to pose for pictures and then left the room.

It was a honour to meet and talk to Mr. Bachchan about 100 years of Indian Cinema.
With the changes we have seen in recent years, Indian Cinema is reaching out to millions of viewers all over the world. The growth of the industry can be measured by things such as production companies joining hands with western production houses, the number of screens worldwide, the earnings at the box office, major events and screening happening in countries such as Japan and Germany and a legend as Big B attending the IBC in Amsterdam.
We can only hope that in the coming years the film industry will keep on growing and reaching out to as many people as we can with content and stories that will touch their hearts.
Check out this small video of Mr. Bachchan speaking at the event!

Plus our exclusive pictures from the event!