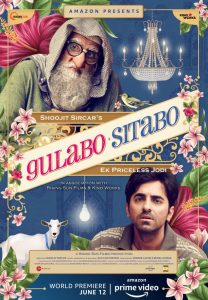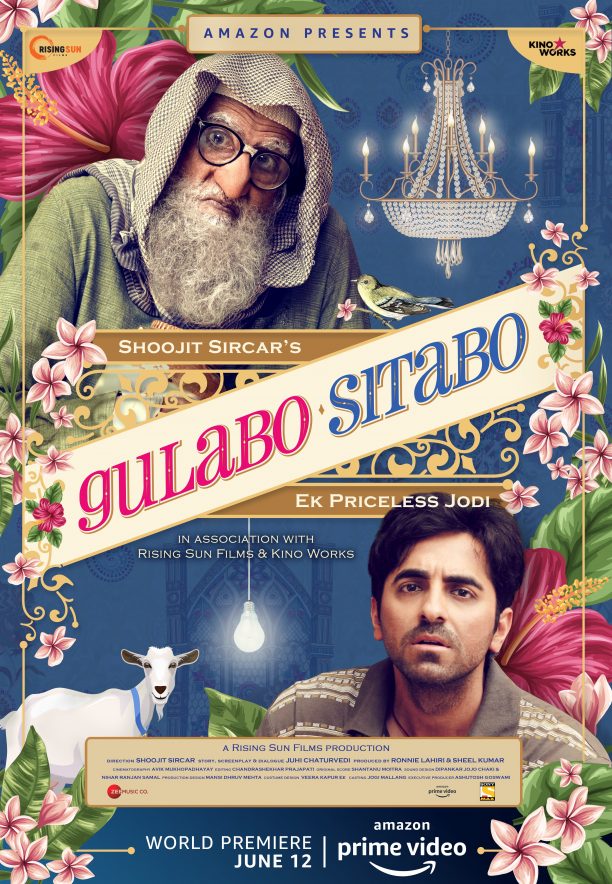 Gulabo Sitabo (Amazon)
Starring Amitabh Bachchan, Farrukh Jafar, Ayushmann Khurrana, Vijay Raaz
Directed by Shoojit Sircar
How do I put this politely? Gulabo Sitabo is as funny as molar surgery, or maybe even less because when you are watching a man helpless under the dentist's drill his helpless anxiety renders itself to a kind of sadistic hilarity in the audience.
But what if that man under the drill is you, dear audience? That's how I felt watching Gulabo Sitabo. Trapped. Miserable. Helpless…. Shoojit Sircar who has made some of the better films of recent years, seems to have devised a new method of making our quarantined life more miserable. Pinning us down to his satirical exigencies Sircar gives us a film about proprietorial greed that misses its mark by a wide margin.
To put it bluntly, Gulabo Sitabo is just not funny. I assume this killjoy comedy is supposed to be funny. Because everyone talks in that casual know-all eye-rolling fashion which cartoon-strips are famous for. Except that the joke here is on us.
Coming out of the unnerving experience I felt like that cuckolded spouse who thought himself to be in a perfect marriage until he caught his spouse red-handed.
Cheated and betrayed? Yes, all of that. But also a bit sullied and compromised by wallowing in the squalor of the protagonist and his crumbling haveli. Both have seen better days. Mr Bachchan has been put into a lot of sticky situations in his times, but none as abysmally non-redemptive as this character.
Bachchan's Mirza is monstrously miserly. It's not about counting your pennies. It's also about looking like you save on soap money. When Mirza suspects his wife will soon die he bargains with the shopkeeper for her kafan. Not just miserly, but also quite dirty in appearance and dialogue,the doddering despicable Mirza and his crumbling haveli are captured by Avik Mukhopadhyay's mesmeric camera images in a swoop of squalour suggesting poverty-porn.
In one sequence where Ayushmann Khurrana playing Mr. Bachchan's lisping dimwitted tenant Baanke suggests that Mirza adopt him to save the haveli, Ayushamann angrily snatches a bedsheet from Mirza claiming it to be his.
"Yeah yeah take it I've farted on it the whole day," mumbles Mirza.
Rather than amused, this concession to crassness made me very angry. Surely, there were more tactful ways of showing the character's crassness specially when played by an actor as classy as Mr. Bachchan? Still Mr. Bachchan wades through the slushy satire in slouched splendour. Mumbling profanities and screaming insults, Mirza has got to be the most unpleasant character ever played by Mr. Bachchan. Shooing girls out of a rickshaw because they haven't his rent, waiting for his wife to die so that he can legally inherit her mansion…. Mr. Bachchan plunges into making this vile character enjoyable, but is repeatedly failed by a script and direction that seem to construct a compressed television serial rather than a crisp enjoyable feature film on the miser and his comeuppance.
Ayushmann is given to mouth his dialogues with a lisp that comes and goes, just like the fugitive humour of this shambolic satire. Nonetheless Ayushman, like his character who won't vacate his rented abode, remains stubbornly in character, sullen, silly and sad,
There is not one likeable character in the film barring perhaps Bachchan's wily Beghum played by Farrukh Jafar. 17 years his senior, we are told repeatedly probably because the actress chosen to be Mr Bachchan's wife looked older than him. The Beghum apart, there are no important women characters except a feisty promiscuous girl named Guddo (Shristhi Shrivastava) a self-serving tenant who is sexually so promiscuous she seems to be begging to be called a slut. In one sequence she is seen coming out of hiding with a man fixing the belt of his trousers. We got that, Mr Sircar.
Another woman whom Khurrana's Baankey dates, dumps him and shows up with her moneyed husband at the end at his aate ki chakki asking for organic flour. Bitch. I am talking about life. What else!
The humour is way too savage to be funny. Everything from an old dying woman's thumb impression to a character's pyorrhea is milked for mirth. But sorry, Gulabo Sitabo is just not funny and a huge disappointment from the director of Vicky Donor, Piku and October. At one point in the battle that ensues between an archaeological department employee (Vijay Raaz) and a cunning lawyer (Brajendra Kala) Mr. Bachchan's Mirza comments that greed can't kill a humanbeing. But be warned. Boredom can.