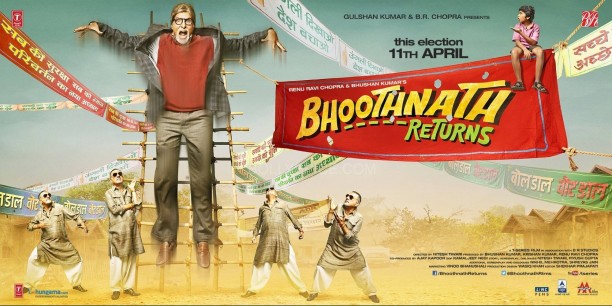 Amitabh Bachchan, returns to delight audiences of all ages as he returns to the silver screen in a lead role as his much loved, paranormal avatar makes a comeback when Bhootnath Returns, releasing in cinemas worldwide on 11th April 2014, produced by Bhushan Kumar, Kishan Kumar, Renu Ravi Chopra and Amitabh Bachchan, and distributed internationally by B4U.
After the unprecedented success of the prequel, Indian cinema's older generation once again goes head to head with the younger as the legendary Amitabh Bachchan welcomes mischievously charming child artist, Parth Bhalerao. Screen magic is created when the two characters collide in Bhoothnath Returns – a delightful, ghoulish comedy drama, directed by Nitesh Tiwari, which will appeal to kids and adults alike.
Comedy kingpin, Boman Irani, plays a pivotal, supporting role in Bhoothnath Returns – a must-see for cinemagoers to witness the formidable on screen interaction between the Shahenshah and the Joker. Indulging audiences further, special appearances come courtesy of none other than superstars, King Khan Shah Rukh Khan who played the father in the original 2008 Bhootnath and Ranbir Kapoor who plays himself.
Talking about SRK's appearance Mr Bachchan said, "Thank you Shahrukh for being a part of 'Bhoothnath Returns' and taking time out to shoot with us … ever gracious!"
Meet Bros Anjjan and Palash Muchhal have created a suitably playful and spine-tingling soundtrack, with a phenomenal buzz already generated around the track, 'Party with the Bhootnath', featuring sensational music artist Yo Yo Honey Singh rapping alongside the Godfather of Indian cinema, Amitabh Bachchan.
If you have missed the trailer you have to see this!

Synopsis:
Bhoothnath Returns takes Bhoothnath's story forward as the paranormal character returns to 'Bhoot World', where he is greeted with taunts and condemnation from the other ghosts for bringing disrepute to the ghost-community for getting bullied by a kid on Earth.
Post the humiliation, Bhoothnath (Amitabh Bachchan) decides to redeem himself by returning to Earth to seek vengeance by scaring a bunch of kids. His search leads him to Akhrot (Parth Bhalerao), a kid from the slums who happens to be the only person who can see him. They agree to help each other but their friendship embroils them in a cause bigger than they had ever imagined. To move ahead, they will need to take on one of the country's most powerful and corrupt politicians, Bhau (Boman Irani). The Lok Sabha elections are nearing and Bhau's victory is a mere formality, or is it?
 In a world where the common man is afraid of politics, will a common man's ghost overcome his fear to stand up for what's right and fight against injustice? 
Bhoothnath Returns is an entertaining tale of good against evil, weak against powerful, past against future.
Prepare for screen magic when Amitabh Bachchan illumines screens and takes audiences on a gripping, ghost ride when Bhootnath Returns, releasing on 11th April 2014, distributed internationally by B4U.
Check out some stills as well!