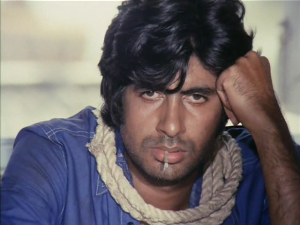 Bollywood legend Amitabh Bachchan took to social media to celebrate 40 years since the release of his most memorable film Deewaar (1975). Directed by the late Yash Chopra, Deewaar is based on the story of two brothers who take different directions in life, with their mother at the centre of their conflict. Deewaar is considered to be one of the greatest films ever made in Hindi Cinema's illustrious history, with many also labelling it as Mr Bachchan's best performance ever.
Taking to Twitter on Wednesday night, Mr Bachchan posted the following in sheer joy. "40 years! 40 years ago, this day, DEEWAR was released!! 21st Jan 1975.. Thank you Salim-Javed Saheb for the most perfect script."
Deewaar played an instrumental role in Mr Bachchan being dubbed as the 'angry young man' of Indian Cinema during the 1970s. The film also stars Shashi Kapoor, Nirupa Roy, Neetu Singh and Parveen Babi.
Mr Bachchan will also be marking another key moment later this year when one of his other important films, Sholay (1975), will also be marking 40 years since it's release.