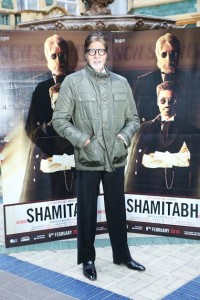 As we have been telling you, Bollywood legend Amitabh Bachchan was in London for a whistle stop tour this week to promote his new film Shamitabh, released by Eros International on 6th February 2015.
The Big 'B' was joined by co-stars Dhanush and Akshara Haasan. Shamitabh, is a tribute to the powerful and legendary voice that has made Bachchan one of the most widely recognised actors across the world.
The Big B's visit took an unusual turn as he found himself of the set of Sky Living's new reality show Desi Rascals, which happened to be filming in the very same hotel that he was staying in! Entering the restaurant for a quiet well deserved break, Mr Bachchan found himself the centre of attention as Bollywood super-fan Arshina instantly recognised the star… fans can watch her reaction and the first ever appearance by an Indian film star on a UK reality show on Friday 30th January at 8pm.
Getting back to Shamitabh…
Speaking at the press conference on 27 January, he acknowledged the talent of his young co-stars and thanked his fans for their unwavering support over the last 44 years. He also paid tribute to director R. Balki whom he has worked with previously on Paa and Cheeni Kum. Speaking of the film and the director's vision Bachchan said:
"Shamitabh is a truly original film brought to life by an exceptional director. Balki is a truly gifted director, there has always been an element of surprise in all his films whether it was Cheeni Kum, Paa or Shamitabh – something that has never been seen before. It's a quality that he has which I appreciate greatly. It's not just the plotline but also the way he expresses emotions through dialogue, it's all quite exceptional, perhaps never heard or seen before in Indian cinema." (You can check out our full report here)
His co-stars Tamil actor Dhanush and Akshara Haasan praised the veteran actor and commented on what an honour it was to share screen space with him.
As well as the press conference, The Big B was keen to touch base with his fans and share a little bit of quality time with them. 400 lucky guests had the opportunity to spend time with him at the Bloomsbury Hotel for a special 'In Conversation with' session for the BBC Asian Network. Speaking to a packed audience Bachchan spoke passionately about his journey in life both on and off screen but on a lighter note, Amitabh joined in on the spirit of the occasion, with some lighthearted fun with Breakfast Show presenter Tommy Sandhu which thrilled the audience. For those that missed out, the session was recorded and will be available on the BBC iplayer very soon.
The whirlwind tour also saw the superstar interacting with his social media fans directly at a special podcast event at the Apple Store on Regent Street in central London. The recording as part of Apple's 'Meet the Filmmaker' series, will be made available to more than 800 million iTunes users around the world for free, the largest ever for an Indian film.
Eros International's President of International Operations Pranab Kapadia commented on Mr Bachchan's visit: "It has been an amazing 48 hours! The reaction to Mr Bachchan was as expected – amazing, and it was fantastic to see his co-stars get into the spirt of things. Shamitabh was a fantastic excuse to bring the legend back to the UK and we are sure that fans will love his performance in the film."
Shamitabh will release in the UK and Worldwide on 6th February 2015