Coming September 9th is Ayan Mukerji's epic Brahmāstra Part one: Shiva. A part of a trilogy to come, Brahmāstra- is the beginning of India's first original universe – the Astraverse. It is a new original cinematic universe inspired by deeply rooted concepts and tales in Indian mythology but set in the modern world, with epic storytelling of fantasy, adventure, good vs. evil, love, and hope, all told using cutting-edge technology and never-seen-before visual spectacles.
The highly anticipated drama stars Ranbir Kapoor, Alia Bhatt, and Amitabh Bachchan.
Today the director released the first look of the Amitabh Bachchan in his character named Guru, and his powerful presence just leaps off the poster. As Mr. Bachchan wrote, "Here comes GURU! The Wise Leader who holds the PRAHBHĀSTRA: The Sword Of Light!"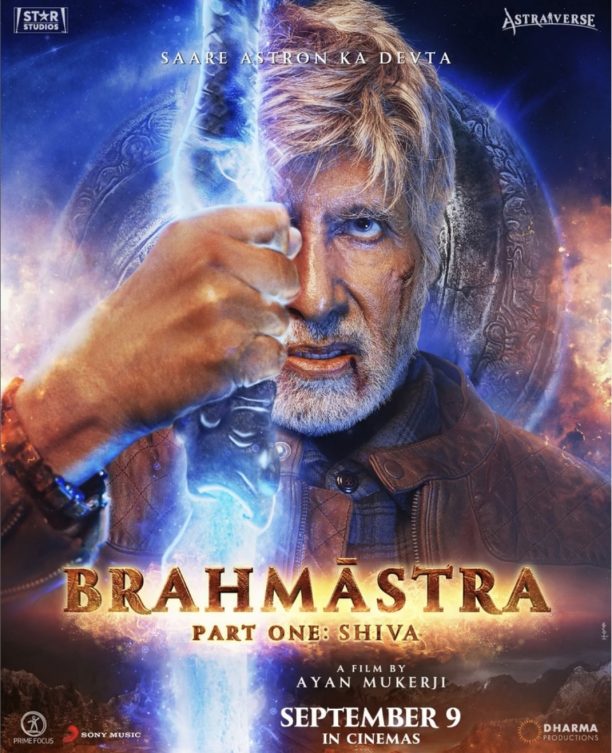 Writing on Instagram, Ayan said, "Guru and his Prabhāstra – The Sword of Light)
Since my first meeting with Mr. Bachchan in 2016 to discuss Brahmāstra, he has always said that he loved the concept of this venture – Ancient Indian Astras, which are protected in India Today!
This blend of ancient Indian Spirituality and modern India – had really appealed to him, and to my great fortune, he agreed to be a part of Brahmāstra…
And changed the destiny of our movie – by bringing his magnificent energy to our Guru – filling him with grace, wit, and wisdom.
So much excitement and respect in my heart today as we launch our Guru Poster, and celebrate this collaboration with the Greatest of Indian Cinema!"
We will find out more about this character and the incredible tale to come when the Brahmāstra trailer releases on June 15th, so watch this space for more!