Bollywood legend Amitabh Bachchan was honoured with the 2013 Global Diversity Award in London on Wednesday at the House of Commons. The award was presented to Mr. Bachchan by Commons Speaker John Bercow, who described him as "a Bollywood icon and the most famous Indian film star of all time." Mr Bachchan was also invited as guest of honour at 10 Downing Street, where Prime Minister David Cameron and his wife Samantha hosted a reception to celebrate the sixth anniversary of diabetes charity Silver Star. Mr Bahchcan has been a long supporter of Silver Star and their mission of diagnosing diabetes at an early stage in rural parts of India. On his 70th birthday, Silver Star presented a Mobile Diabetes Unit in Mumbai which was named 'Amitabh' in his honour.
Mr. Bachchan spoke about how honoured he was to receive the "historic award" and mentioned the following. "I have been extremely overwhelmed by the love and affection of the people of Great Britain." "It has been a great privilege and honour to visit various cities in helping people to tackle diabetes."
British actor Hugh Grant was also present at the ceremony where he praised Mr Bachchan's charismatic status in India, as well as his humanitarian work. "It is truly a great pleasure meeting Amitabh Bachchan. He is a gigantic actor, super star who is hugely popular. He is also like a saint in some way because of his charity and animal welfare work. If ever anyone who deserve the Global Diversity Award, it is Amitabh Bachchan. Congratulations."
Mr. Bahchcan also took to Twitter and Facebook, where he posted pictures and comments on receiving the prize. He stated the following in one of his tweets. "I am simply overwhelmed…no actor has ever been given the privilege.. I am blessed.. BUT the House is unbelievable inside and out."
BollySpice congratulates Mr Bahchcan on receiving this prestigious honour!
Check out the pictures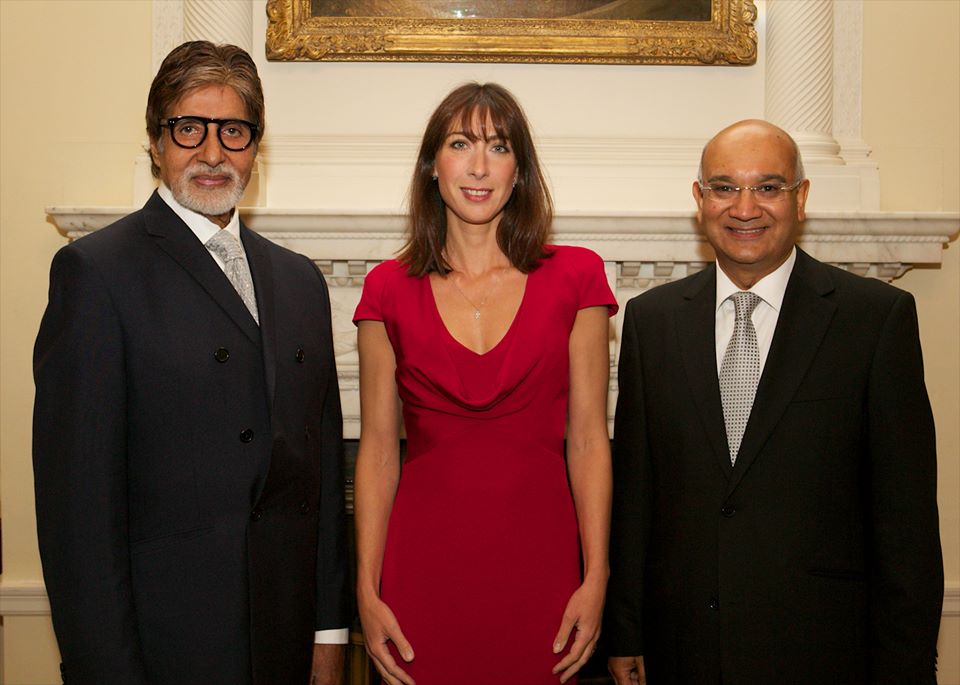 "At 10, Downing Street, historic edifice of iconic proportions, as Guest of Honor for the Silver Star Charity that works at detecting diabetes all across the world ..
Had launched mobile units in UK, and two in India, in Goa and in Mumbai .. what a moment to meet the PM, David Cameron and his charming wife who played host to us .. that doorway has seen the passage of time and the footfalls of some of the greatest in the Universe ..the famous stairway lined with all the photographs of all the Prime Ministers and the various important rooms where decisions and conferences took place .. such a honor for me to be decorated there .."