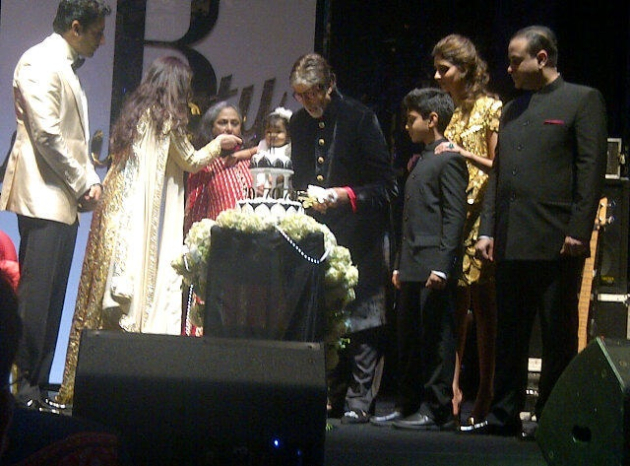 Today marks a milestone in Mr. Amitabh Bachchan's life as he turns 70. A lavish Birthday party in Mumbai was held in his honor last evening. Along with his family including cutie pie granddaughter Aaradhaya, many people from the Bollywood fraternity, as well as a number of major Indian personalities attend the to party hard with Mr Bachchan! Unsurprisingly, many also could not afford to let the day pass without sending their birthday messages to Mr Bachchan both on Twitter and on Facebook. We here at Bollyspice have compiled some of the best messages of those who have paid homage to the legendary Bollywood actor on his 70th Birthday!
Arjun Rampal: "@SrBachchan you are will always be my number 1 Hero. God bless you with all the good and abundance in the world. Happy Birthday Sir."
Shah Rukh Khan: "Danced with amitji and jaya aunty to all the songs I have grown up listening. Too much fun. Thanx abhishek, aishwarya & aaradhya for the warmth."
Sachin Tendulkar: "Dear Amitji wish u a happy 70th birthday. May God bless u with happiness and good health."
Karan Johar: "The #B70 bash was a beautiful blend of nostalgia, reverence and legendary acknowledgement….@SrBachchan has a legacy of abundant goodwill."
Tisca Chopra: "Happy B'Day Mr Bachchan. You inspire excellence in craft in us younger actors, while showing how to do it with charm, humility & a dry wit!"
Sonam Kapoor: "To @SrBachchan a very very happy birthday, I had the honour and privilege to work with you on black, and you are one of my main inspirations as an actor. Lots of love!"
Anupam Kher: "Happy Birthday @SrBachchan. May God Give you more Joy, Happiness, Peace and love. May you keep inspiring us for another 1000yrs. Jai Ho.:)
Madhuri Dixit: "Happy 70th Birthday to Amitji!"
Akshay Kumar: "To the man we all look up to, not just in height but in awe! 70 years young legend with a 170 crore fan following! Happy birthday @SrBachchan."
Shilpa Shetty: "Wish u a verrry happy bday @SrBachchan. U are blessed nd I feel blessed to know u. May u always have Love, peace and happiness in ure life :)"
Priyanka Chopra: "Happy Bday @SrBachchan!! Missed the party of the decade sir but here's wishing you many many years of health and happiness..Love and regards"
Shekhar Kapur: "@SrBachchan u have been n inspiration for a billion Indians from many generations. May you continue to be the 'Forever Man.' Happy Birthday."
Finally, Mr Bachchan responded online to all the birthday wishes which he has received from all his fans with the following message:
I come to express my grateful thanks to all that have wished me, and merely say this ..

Without you my life would have been incomplete ..

The blessings of the Almighty, the affection and care and upbringing of my parents and my family, and the deep love of my well wishers has kept me alive … 

I am whatever I am today because of all the above … it has been so from the beginning, it shall remain so till the end ..

Love affection and more ..

Amitabh Bachchan
From all of us here at Bollyspice.com, we salute Mr Amitabh Bachchan and wish him a very Happy 70th Birthday!!!!
Be sure to check out our cool feature Top 10 Amitabh Bachchan Films You MUST watch and Stay tuned we will have have shots from the fabulous birthday party soon!