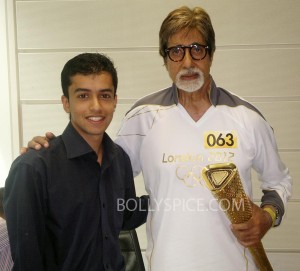 On Thursday, 26th July 2012, Indian film legend Amitabh Bachchan proudly carried the Olympic Torch during its final relay leg around London before the much-awaited Games opening ceremony on Friday, 27th July. The superstar actor, dressed in the official Olympic Torch Relay attire and his participant number of '63' emblazoned on the front, was relaxed and joyous as he took to the streets of Southwark in London, to play his part in making history.
The stately Mr Bachchan took hold of the lit torch from his predecessor at 10.57am. After a gentlemanly handshake, he began by walking with the iconic symbol. Mr Bachchan quickly picked up pace as he jogged the 0.17 mile route from Southwark along Peckham Road and Bellenden Road, all the while waving and smiling at the hundreds of adoring fans who had lined the streets to see their idol. As his relay neared its end, he handed the flame to the next participant.
In conversation with BollySpice reporter Sunny Malik, the 69-year-old actor speaks about his experience of carrying the Olympic torch and much more.
How did this all come about that you were making history in London by being the first Indian film fraternity member to carry the Olympic torch?
Oh gosh, you give me so much importance.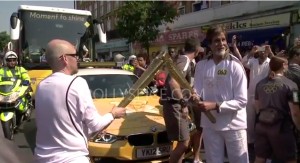 You are important.
I had an invitation from the Lord Sebastian Coe who heads the London Organising Committee of the Olympic and Paralympic Games. He extended this very kind invitation to me. He asked me whether I would be interested in running with the Olympic torch and I took it on. It has been a great honour and is a privilege. That's why I am here.
Karan Johar was invited by Visit Britain to the opening ceremony of the London Olympics 2012 and you were invited to carry the Olympic torch. Does this show that Britain is embracing the Indian culture and the Indian film industry?
I have always believed cinema in India has been a great binding force, bringing communities together. It maybe reflects the importance that Indian cinema is having, beyond Indian shows. It was an entity that was somehow looked down upon for many years, cynically looked upon with a lot of criticism. But I think, over the years it has become a parallel culture. As a celebrity sometimes, what you say and what you do catches the attention of more people. I guess, this would be one of those moments.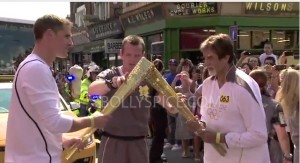 A.R. Rahman has also composed a track for the opening ceremony.
I am very happy that A.R. Rahman has composed music for the ceremony. We are all great fans of his music. The recognition he has received in the last few years is phenomenal. He has always been very deserving of such recognition. I am very happy that Organising Committee has chosen him to contribute his music to the event.
It was a proud moment for Indians all over the world that you were carrying the Olympic torch on the streets of London.
It was a proud moment for me as well that they invited me to do the honour and gave me the chance to participate in such a historic event. It has been a wonderful experience and I never ever imagined that I would be part of this.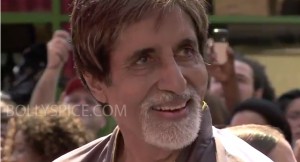 There were of course, fans from all over the UK who came to see you. How did it feel when you were running carrying the torch and hearing screaming fans around you?
I was worried if I will be able to cover the three-hundred metres, to be honest (laughs). But really, it was a privilege to carry this prestigious torch which really represents the entire Olympic movement.
You also have a Hollywood film coming up called The Great Gatsby. Tell us something about your character and experience of working with actors from Hollywood.
I am not playing an Indian character. The role came to me from the director Baz Luhrman. He was visiting India on a tourist visit. He dropped into the office and we chatted, nothing about films though. Then, a couple of years later, he called me and said that I am making this film and would like you to play a small role in it. He said that he just that I should do it. It is a blink and miss role. It has huge international stars like Leonardo DiCaprio, Carey Mulligan and Joel Edgerton. The experience was wonderful.