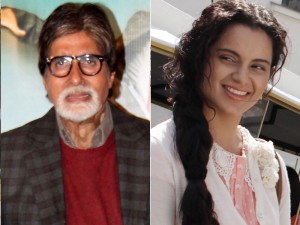 Megastar Amitabh Bachchan was all praise for the promo of Kangana Ranaut's 'Queen' at the trailer launch of his upcoming film: 'Bhoothnath Returns', directed by Nitesh Tiwari.
'Bhoothnath Returns' is Nitesh Tiwari's second film as director, the first one being 'Chillar Party'. Interestingly, Nitesh's 'Chillar Party' co-director Vikas Bahl is also gearing up for his second directorial film 'Queen'.
So when a media person quizzed Nitesh for his reaction on 'Queen', Big B also voiced his opinion and said, "I too loved the promo of Queen. It is amazing."
'Queen', which also stars Rajkummar Rao and Lisa Haydon, is slated to illumine screens, come March 7, 2014.
Synopsis:
'Rani' (Kangana Ranuat) is a 24-year-old born and brought up in a conservative, Punjabi family residing in Rajouri, New Delhi. Being the only girl in a traditional family unit, she has always been protected to such an extent that even a trip to the grocery store around the corner requires her mother asking her younger brother to accompany her. The typical, 'Chintu, zaraa Didi ke saath chale jana' scenario.
Rani's sheltered life revolves around her Home Science course at college, her collective of female friends and her father's 'mithai ki dukaan' (sweet shop). Like any other girl, she dreams relentlessly of the perfect guy to tie the knot with before embarking on her honeymoon – a life milestone for which she has been saving up since class 9.
When she reaches suitable age, her parents introduce her to 'Vijay', the son of their close family friend, and after persistent coaxing and the typical-boy-trying-to-impress-girl routine, Rani begins to fall for Vijay and, in her mind, accepts him as her beau. Engagement follows with the wedding planned for six months later, as Vijay is imminently posted to England as an engineer. So with dreams of her wedding and well-planned honeymoon on the agenda, Rani and her family kickstart the preparations.
As the dates approach, with relatives and functions in flow, Vijay returns for the wedding but calls it off at the 11th hour, citing a mismatch of interests and lifestyle. Rani is unable to come to terms with the jilt. Her entire family tries to console her with the typical reassurances. Then, taking her life and destiny in her own hands, she decides, impromptu, to go for her meticulously pre-planned honeymoon… by herself. A girl who has never been out in Delhi unescorted by her younger brother now leaves for a foreign land to embark on a life journey filled with experience and adventure.