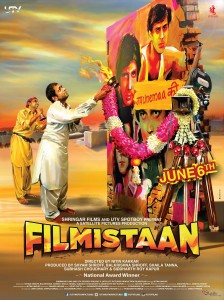 Debutant Director Nitin Kakkar's Filmistaan team has walking on cloud nine after getting praise from Mr. Amitabh Bachchan after he saw the trailer. Now, the team is on cloud 11 because the esteemed actor, who watched the Film recently, tweeted his rave review for the film!
Big B's tweet read:
T 1498 – 'Filmistan' .. the film on release .. cinema in its bountiful glory. Just saw it .. films bind they do not divide.. love is power!
Filmistaan starring Sharib Hashmi, Inaamulhaq is all set to release on June 6th.
Filmistaan, who won the National Award in 2012, tells the tale of ab affable Bollywood buff and wanna-be-actor Sunny, who works as an assistant director in Mumbai, fantasizes on becoming a heart-throb star. However, at every audition he is summarily thrown out. Undeterred, he goes with an American crew to remote areas in Rajasthan to work on a documentary. One day an Islamic terrorist group kidnaps him for the American crew-member. Sunny finds himself on enemy border amidst guns and pathani-clad guards, who decide to keep him hostage until they locate their original target. The house In which he is confined belongs to a Pakistani, whose trade stems from pirated Hindi films, which he brings back every time he crosses the border. Soon, the two factions realize that they share a human and cultural bond. The film shows how cinema can be the universal panacea for co-existence
We have wonderful interviews with both Sharib Hashmi and Inaamulhaq coming up next week so watch this space for more!