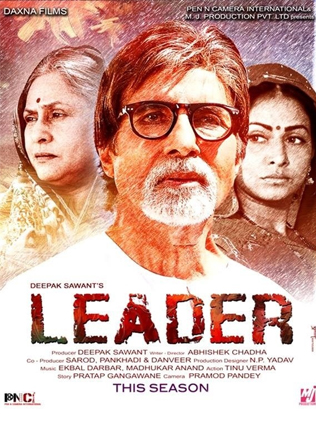 After Bhoothnath Returns, which had a political backdrop, Amitabh Bachchan is back in another film on politics titled Leader. The difference with Bhoothnath Returns is that this movie doesn't focus on elections but the story afterwards.
Last night the first look of Leader was revealed in a suburban hotel in Mumbai.
Leader is produced by Deepak Sawant, who has been Bachchan's make-up man for over 40 years. "I worked with Mr. Bachchan for over 40 years. For me he is Ram, his wife is Sita and I feel like Hanuman. I will do anything for him," he said emotionally.
Sawant revealed that he and director Abhishek Chadha worked on the script for two years. "We wanted to have a good script. If the script is good the film is good."
"I wanted to make a political film which centres around woman. The film revolves around a woman who takes a bold step into politics while she is balancing her private life," said director Abhishek.
When Mr. Bachchan arrived to reveal the first look, the crowd went beserk. Bachchan took to the stage and said: "I want to congratulate all associated with this film. We made it in Bhojpuri and now in Hindi. I hope this will be just as successful."
Synopsis
Leader tells the story about Master Vishmbharnath (Amitabh Bachchan) who happily lives with his wife Kalyani (Jaya Bachchan) and their son Dinesh. One day Vishmbhatnath's life takes a massive turn.
When MLA Tiwari (Gulshan Grover), a bad politician, asks him to join his team Vishmbharnath rejects and fights against him.
The movie is a journey of a true man who becomes a leader for his family and people. In the year of a political revolution will a true leader win the battle or not?
A leader is one who knows the way, goes the way and shows the way.