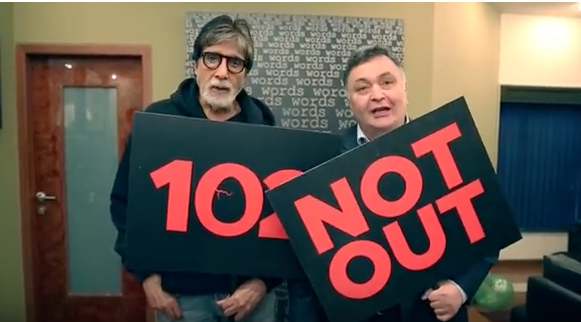 Are you ready for Mr. Umesh Shukla's ageless comedy 102 Not Out that brings legends Mr. Amitabh Bachchan and Mr. Rishi Kapoor, as father and son for the very first time? We certainly are! The slice of life comedy will feature India's two mega stars, 27 years after their last film together. Billed as the most unusual father and son love story, 102 Not Out is slated to release worldwide on 4th May, 2018.
The film is based on playwright Saumya Joshi's well-known Gujarati play by the same name and has been adapted into a feature by him.
Talking about the film, Mr. Amitabh Bachchan, who plays the role of 102 year old man living life to the fullest, said, "Teaming up with Chintu ji after so many years .. after so many successful historic films, has been the greatest joy during '102 Not Out' .. a novel story, competent direction and a most qualified crew, has made the experience even greater .. I know the country loves the younger, fresh and vibrant new generation – as must it should deservedly , but who ever said the 'oldies' are not capable to do similar .. we know you may not love us, but given a chance we shall not disappoint you either .. and that is as immodest as I can get .. BADUMBAAAAAAAAA !!!"
Mr. Rishi Kapoor, who plays 75-year-old son of Mr. Bachchan in the film, added, "Being in 102 Not Out brought back a lot of fond memories and fun I have shared with Amitji during my younger days. I am glad to reunite with him on such a special and unusual film. It will definitely delight our fans!"
Filmmaker Mr.Umesh Shukla added, "102 Not Out is a highly entertaining and extremely successful Gujarati play that has won over the youth and family audiences across the board. The idea of adapting it into a Hindi feature came from the fact that the relationship between a parent and a child is universal and the one where love supersedes everything else, including age! Amitabh Sir and Rishi Sir together are a dream cast for anyone and I sensed a deep responsibility in bringing them together. I am thankful to Treetop Entertainment for helping me realise my vision and we couldn't have asked for a better partner than Sony Pictures India to take this universal story to global audiences as we hope to bring them one of the finest cinematic experiences."
Mr.Vivek Krishnani, MD, Sony Pictures Entertainment, India said, "Be it Pad Man or 102 Not Out, our constant endeavor has been to look for stories that matter. Stories that not just entertain and enthrall but leave us with a thought. We were sold from the word go when Umesh, who was also the force behind highly successful "OMG Oh My God! shared the idea of this rare, heartwarming love story of a father and son. We can't describe our excitement to take this ageless comedy, that brings together two of the greatest stalwarts of Indian cinema, to the audiences.102 Not Out is unlike any other film you have seen and along with Treetop Entertainment and Benchmark Pictures, we promise you that it will take you on a journey of a lifetime! "
The film's teaser will be launched worldwide with Pad Man that releases on February 9th, 2018.
Stay tuned we will bring that to you soon!