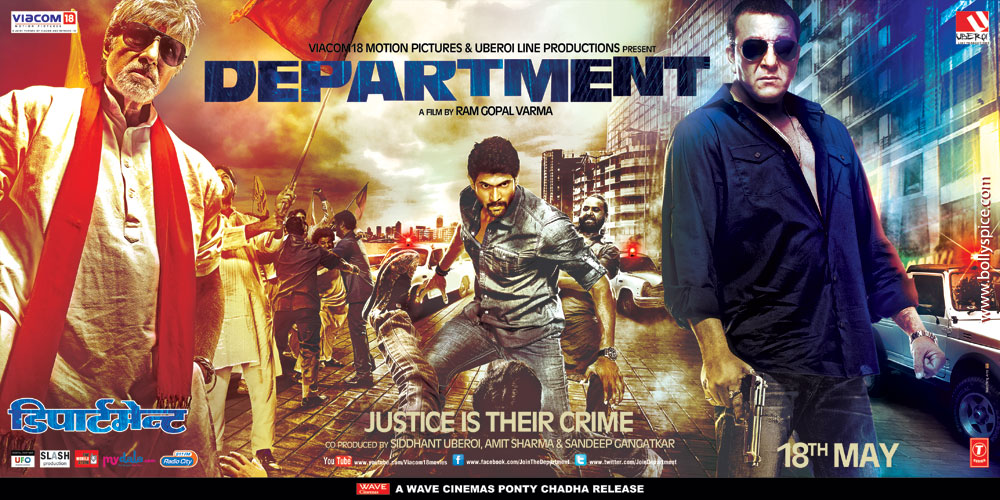 One of contemporary Hindi cinema's most inventive filmmakers, Ram Gopal Varma, unites a who's who of cross-generational acting heavyweights in his latest piece of cinematic artistry, Department, opening its doors in the UK on 18th May 2012 through B4U Pictures and presented by Viacom 18 Motion Pictures.
With all the markings of another classic and following the tradition of earlier superhits such as Company, Sarkar and Sarkar Raj, Varma takes audiences on another rollercoaster ride to the dark side – this time into the guarded inner echelons of the police 'department', where the unnerving power struggles quickly separate the men from the boys.
Testifying the film's thematic mantra that 'Real Power Comes From Real Men', Department features acting heavyweights that transcend the generations as veteran actors Amitabh Bachchan and Sanjay Dutt appear alongside Tamil artist and rising star of Hindi cinema, Rana Daggubati. Not for the faint-hearted, the film consistently packs a punch with state-of-the-art action sequences, a gripping, fast-paced narrative and powerful dialogues that will surely establish themselves as iconic lines that define the zeitgeist of Indian cinema.
These three principle characters respectively embody different archetypes of machismo. Amitabh Bachchan essays 'Sarjeroa' – a Machiavellian character whose power lies in his manipulation and deception; 'Mahadev', played by Sanjay Dutt, represents a dynamic character whose power lies in his dual personality that he very successfully hides; and Rana Daggubati's 'Shivnarayan' represents a shoot-first-talk-later kind, whose power lies in his obedience to those he respects. The film's sinister aesthetic is heightened by an adrenaline-infused soundtrack, courtesy of composers Dharam Sandeep, Bappa Lahiri and Vikram Nagi. The musical score is punctuated by pulsating item song 'Dan Dan', picturised on supermodel and screen debutante, Nathalia Kaur, and choreographed by Ganesh Acharya.
Comments Sunil Shah, Head Of B4U Film Distribution, "B4U Pictures are thrilled to release RGV's Department in association with Viacom. Department, which stars the legendary Amitabh Bachchan and Sanjay Dutt, is a promising film that will be just as entertaining and mind-blowing as previous RGV films like Sarkar. If you are a fan of Abtak Chhapan, you will love Department, Bollywood action at its very best, definitely a must-see for all on the 18th May."
Department releases in the UK on 18th May 2012 through B4U Pictures, presented by Viacom 18 Motion Pictures.
httpvh://www.youtube.com/watch?v=TiUtNFkJzZw
httpvh://www.youtube.com/watch?v=7sFWs91iLnM
httpvh://www.youtube.com/watch?v=UGvXoqfmo9w
httpvh://www.youtube.com/watch?v=NDyRAoBQO2M