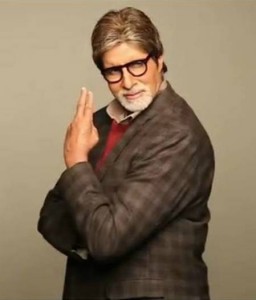 Amitabh Bachchan is without a doubt one of the most charismatic figures to have graced the silver screen in Bollywood. At the age of 71, he still manages to demonstrate why he is worthy of his place within the industry today.
For his upcoming film Bhoothnath Returns, Mr Bachchan was given the task of delivering a lengthy monologue for one particular scene. Surprisingly, he managed to achieve this in one take only; and that too without the support of a teleprompter! For those of you who don't know; a teleprompter is a device which displays the lines which an actor or a presenter has to say for a film or a television show.
One source revealed the following to the media with regards to what happened. "The scene was an intense, satirical take on the current situation in the country, and the frustration of the common man against the prevailing scenario. The long monologue included some 15 to 20 lengthy sentences. It needed to be delivered with heightened emotion. And he (Bachchan) did so with great ease. Everyone on the set was left awestruck."
The director of Bhoothnath Returns, Nitesh Tiwari, also gave his take on what took place at the sets. "It was a lengthy line with powerful words, which needed to be shot in a single go. Though we had arranged for a teleprompter for his convenience, Mr Bachchan waved it away saying he did not need it, and delivered the entire monologue in one take with apt emotions and expressions. We didn't need any other takes or re-shoots; the scene was just perfect."
Bhoothnath Returns releases in cinemas on 11 April!