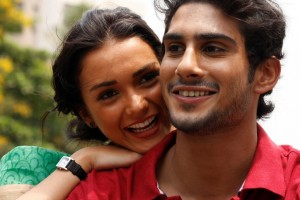 Hailing from the new age genre of Hindi cinema that presents a fresh and youth-targeted perspective, Ekk Deewana Tha retells the classic, intense love story with fresh impetus for a new generation of cinemagoers, releasing through Twentieth Century Fox on 17th February 2012.
Ekk Deewana Tha weaves an emotive and powerful tale of how the path to true love never runs smoothly and that following your dreams comes at a price as it explores the highs and lows of being in love and the pleasures and pains associated with it.
Making her Bollywood debut in the female lead after a successful run in Tamil Cinema is British actress and model Amy Jackson, who is also former Miss Liverpool, Miss Teen World, Miss Teen Great Britain, and Miss England runner up. The English starlet, who is making waves with her film career in India, stars opposite Bollywood heartthrob and youth icon Prateik Babbar (Dhobi Ghat, Dum Maaro Dum, Aarakshan).
The entire film is a breath-taking combination of a story told through the eyes of the critically acclaimed Master Director Gautham Vasudev Menon set against the exotic backdrop of Kerala, Agra, Jaipur and Mumbai. The film is a reworking of Menon's path-breaking Tamil screen hit, Vinnaithaandi Varuvaayaa. His other works include the Tamil blockbuster Khakha Khakha which was also reinterpreted in Bollywood for the Box Office hit, Force.
'Ekk Deewana Tha is offset by a simply outstanding and memorable composition by multi-Oscar winner, A.R. Rahman ('Slumdog Millionaire') with lyrics penned by India's most popular and sought-after lyricist, Javed Akhtar. The film's music was launched December 21st at the symbol of romance the Taj Mahal. The official release of the CD soundtrack to the highly anticipated romantic musical EK DEEWANA THA, was released today in honor of the the birthday of its Oscar and Grammy-winning composer A.R. Rahman
Synopsis: Ekk Deewana Tha is the story of Sachin (Prateik Babbar), an engineer who has managed to complete his degree, but who is completely obsessed with the world of cinema and films. Hanging around at film sets, waiting outside directors' offices and spending time with an assistant director-friend is what makes most of his days.
And just when life was churning its monotonous cycle, Sachin and his family shift to a temporary home in Juhu and it is in this new place, that he sees 'her' for the first time – Jessie (Amy Jackson). It is love at first-sight for Sachin and when he finds out that she lives in the house upstairs, he leaves no chance to watch her, catch her attention or generally try to make conversation with her.
Jessie is a Malayalee Christian with strict orthodox parents. To make matters worse, she is also a year older to Sachin. All the odds seem stacked against him. And finally one day, when pushed into a corner, he confesses to her that he likes her. But Jessie is headstrong and refuses to accept that she has any feelings for him. She insists that they should be friends and that anything further would make life very difficult for her. And yet, she feels the need to meet him and talk to him.
A beautifully essayed love story-musical between the quintessential romantic Sachin and the confused yet headstrong Jessie, Ekk Deewana Tha is an intense, yet feel good love story between the two lovers as they understand the pangs and pleasure of first love while battling with the situations that life has placed them in, making Sachin question – of all the people in the world why did I fall in love with Jessie?
Ekk Deewana Tha is released through Twentieth Century Fox on 17th February 2012.
Here is the trailer with subtitles in case you missed it!
httpvh://youtu.be/kp-rUkUITLE