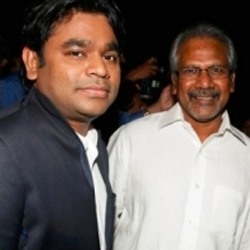 The British Film Institute is celebrating Mani Ratnam's Love Stories in December as part of their season titled 'Love: Films to Fall in Love With Films to Break Your Heart'. They are featuring three of his films (Dil Se, Bombay, O Kadhal Kanmani) and all have incredible music by the maestro AR Rahman. Popular BBC Asian Radio Host Ashanti Omkar is very excited about the Mani Ratnam and AR Rahman weekend at the illustrious temple of cinema, the British Film Institute, London, and reminisces about the films and their music:
My Chicago based friend Meera and I, went to see Bombay at Wimbledon Odeon in London in 1995, at it's UK premiere of sorts, and started around 11pm, to a full house. We came out weeping, yet totally enthralled by the cinematic brilliance, teamed with a score that hit deep into our hearts. The entire cinema audience seemed to echo this sentiment, the unique vision of Mani Ratnam, that came to life by the lens of ace cinematographer Rajiv Menon.
My musical pick: I've picked the original Tamil version of this epic song, as it is the native language for the song, sung in Tamil, Hindi and Telugu, by KS Chithra and AR Rahman himself, with a brilliant chorus. It is a pure Indian film song, to match the colourful wedding themed visuals, that evokes romance and falling in love, to a tee.
– Watch Bombay on Saturday 12 December at 8.10pm at BFI Southbank
It was 1998, and the soundtrack for Dil Se, both in Hindi, Tamil and Telugu, floored me. The sheer soul of it, teamed with the spirit of true love, shone through. Every single song, every single voice, across the languages, the layers of lush instrumentation, plus the dynamic visuals by the director of photography, Santosh Sivan, which remain in front of me even today. The story, which ended the political backdrop trilogy by Mani Ratnam, comprising of Roja and Bombay before this, will remain with me for life. Shahrukh Khan, who celebrated his 50th birthday recently, was the perfect pathos evoking pairing to cancer survivor Manisha Koirala, while Priti Zinta and Malaika Arora Khan added the glitz.
My musical pick: Jiya Jale by Lata Mangeshkar and MG Sreekumar, with the morsing (Jew's Harp) that brings another dimension to the complex rhythms of the song!
– Watch Dil Se.. on Sunday 13 December at 3.45pm at BFI Southbank
When the song 'Mental Manadhil' from O Kadhal Kanmani hit iTunes in 2015, it became my anthem for the year. I was lucky to sing along with AR Rahman, at The O2, when he performed this while ending his sold out Greatest Hits show on the legendary stage. While the young leads were engaging, the older couple in this film, who were shown coping with Alzheimer's disease hitting the otherwise brilliant mind of the wife, made compelling viewing, and showcased an enduring true love, that sees forward a life together. The cinematography of PC Sreeram, a longtime collaborator of Mani Ratnam, brought the scenes to life, alongside some fun animation scenes too. A thoroughly modern romance.
My musical pick: 'Naane Varugiraen' by the young voices of Shashaa Tirupati & Sathya Prakash, in the Raag (mode) Dharbari Kaanada – it's sheer bliss to listen to.
– Watch O Kadhal Kanmani on Monday 14 December at 8.20pm at BFI Southbank
Listen to the Ashanti Omkar Show every Sunday on DAB digital radio, nationwide in the UK, on BBC Asian Network, from 2-4pm, on the BBC iPlayer, and online, worldwide.
Episodes & Interview Clips: http://www.bbc.co.uk/programmes/b04mv017
Listen to Ashanti Omkar on BBC London 94.9FM & BBC West Midlands 95.6FM, talking Bollywood and Indian cinema