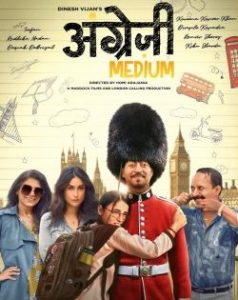 Angrezi Medium the successor to 2017's Hindi Medium. Directed this time by Homi Adajania, this sequel story is set 20 years on, and like all things in time a new cast has grown around Irrfan to bring a new light to this story.
Hindi Medium's music was a combination of Punjabi stars Guru Randhawa and Sukhbir being directed by Sachin-Jigar, with each song being a hit in itself. Angrezi Medium has been put together again by Sachin-Jigar, this time getting the assistance of Taniskh Bagchi. The same 4 song format has been chosen for this 16-minute album, allowing each song to have its own punch but not get in the way of the storyline.
"Ek Zindagi… sau quahisa" is the opening chorus of the first song of the album aptly tiled Ek Zindagi. A punchy number with a simple beat to accompany the young voice of Sachin's daughter Taniskaa Sanghvi. This song hits all the nice parts of the heart and still makes the listener determined to find the next level in their own life. The innocence of the voice, the powerful lyrics sung on it and the light background that allows the singer to stand out drive this one home. Unfortunately, it's a repeat of the song originally used for Hindi Medium, 'Ek Jindari', which reduces its polish.
The next song is also a famous redo, Nachan Nu Jee Karda. This song has been redone over and over again by many both in Bollywood and the Punjabi pop movement. In this case though it's not really a surprise… it's true bhangra, with just enough synth to power it up without making any obvious changes. And along with Radhika who dances in the clip, the audience will no doubt also leave their seats at home to join in. The fun in this song doesn't overshadow its message but rather takes it to another level, and even intonates towards an upcoming love angle in the story. Get up and get bhangra!
Vishal Dadlani comes in for a special song Kudi Nu Nachne De. This one features some of Bollywood's best actresses all making a special appearance for the film as well as International Women's Day. Those who see it and hear it will be filled with not only joy in their hearts but a special reverence for women in their lives. Another simple but synthesised beat allows Vishal to deliver freedom in words while Bollywood's queens dance in selfie mode.
The final song is Laadki sung by Rekha Bharadwaj. While this is also a remake of Taniskaa's song for Coke Studio, the change of singer gives this a very motherly feeling which is brought to life on screen by Kareena Kapoor Khan. A range of emotions are presented throughout this song, many seeming to be about a life lived in the past, a life left behind. The traditional Rajhastani beat only helps make the feeling of distance even greater. Listen with a tissue box nearby.
In defining a rating for this album, it must be noted that there are 3 remakes. Also, not 1 song has been made specifically for the purpose of this film or this story and while Sachin-Jigar have gone out to find fresh looks at these songs, they often left it in the hands of some very capable singers. It is the combination of these singers and the lyrics which have been crafted to pack a punch for which this album deserves plaudits and so the rating.