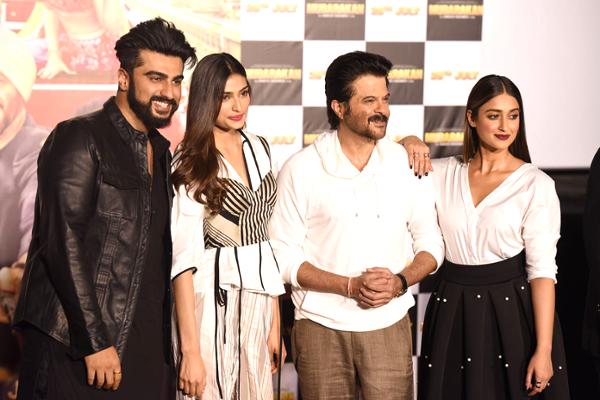 The trailer for the long-awaited Mubarakan from director Anees Bazmee has been released, and the stars took to the red carpet to introduce it. Anil Kapoor, Arjun Kapoor, Athiya Shetty and Ileana D'Cruz got into character by showing off their bhangra skills alongside colourful dhol players, and the cast sat down to reveal a little more about what the audience has in store.
First the trailer:

Karan and Charan are identical twins who through a twist of fate end up becoming cousins. One brought up in Chandigarh and the other in London, they are as different as brothers can be. The fun starts when their families start searching for a bride for them, unknown to the fact that they already have girlfriends. Will their genius uncle, Kartar be able to get them out of this mess or create more confusion? Watch the madness unfold this monsoon. It's time to meet the craziest family in town! It's MUBARAKAN time!
On the twin roles he plays in the film, Arjun Kapoor says: "The dynamic creates comedy and the ways to entertain increase. Also films, which have featured actors in a double role, have always connected with the masses. In the film, laughter is not evoked because of mistaken identity."
When asked about his favourite film involving an actor playing a double role, Kapoor says, "Its 'Kishen Kanhaiya', an underrated film based on double roles."
Mubarakan releases in cinemas on 28th July 2017.
Check out these cool shots!