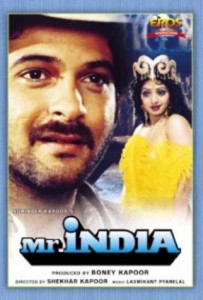 Anil Kapoor has confirmed his presence in the 1987 super hit film Mr India sequel. While talking to journalists regarding his new television production, 24, Anil said, "How can there be a Mr. India sequel without me? Of course, I will be in it and will start work on it very soon."
Mr India is one of Anil Kapoor's most celebrated films and one of the most iconic films of its time. It was back in 2008, when producer Boney Kapoor announced the rumors to be true that Mr India 2 would be made.
In 2010, there was further hype around the film to be made in 3D. 1987 Mr India director Shekhar Kapur had said, "I want to take this film to the highest level. 3D would be a terrific experience with this kind of subject. We were toying with the idea for a long time, but finalized things only a few days ago." We have yet to get confirmation as to whether this plan still has the green signal.
Boney Kapoor said that the sequel will not be a remake of the film and Mogambo's character will be replaced by a new villain. Back in 2008, Salman Khan was the hot favourite for the role and Boney Kapoor was keen to see him in a negative avatar. He has not confirmed this casting by saying; "If I had my way, I would plan every film with Salman Khan. But this is not in my hands, it will be according to the script."
Anil and Sridevi will of course be starring in the sequel, however, Sridevi had apparently refused several film offers on the grounds that the Mr India sequel would be her comeback film. Now, five years on, Sridevi has made a fantastic comeback in English Vinglish and Anil Kapoor is gaining widespread recognition for 24, but there is no sign of a Mr India 2 trailer.
Let's see if things progress quickly now that Anil Kapoor has confirmed that work will start soon!