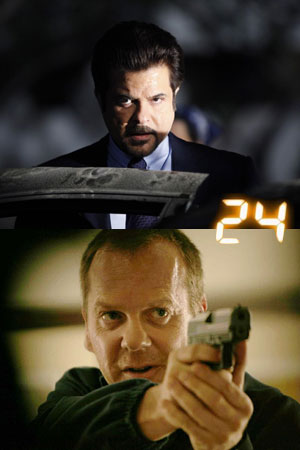 We all know that after Slumdog Millionaire, our very own Anil Kapoor was asked for several Hollywood productions and he bagged a role in the Tom Cruise starrer Mission Impossible: Ghost Protocol. And before that he played the role of President Omar Hassan of Kamistan in the popular American tv-serial 24. And guess what… he will now play the lead.
Anil Kapoor's production company recently bought the remake rights of the American show. Kapoor will make his TV debut in India next year with this show, which he will adapt for the Indian viewer. The tv-show will air in Hindi and dubbed in several regional languages. And is it's true then the international team of 24 will be involved with the making of the adaption.
Kapoor is thrilled and sees a wish come true. "I am really happy that the makers of the show have put their faith in me for its Indian version. When I was shooting for it in the US, I kept wishing that I could take something like this to my Indian audience. Now that wish is close to getting fulfilled."
In this counter-terrorism thriller, Kapoor will playing Jack Bauer, which was played by Kiefer Sutherland in the original. Kapoor says it's a huge honour, but admits being nervous as Jack Bauer has become an iconic character all over the world. "It's a huge honour, but I am anxious as Jack is an iconic character like Jack Sparrow or Batman. He is loved all over the world. It's a great responsibility for me as an entrepreneur and as actor. I will try my best and hope I can do even 50 per cent of what they have done. If I achieve a little of what Keifer has, I will be happy."
We wish Anil Kapoor all the best with the production and certainly can't wait to see how he has adapt this popular tv-serial.