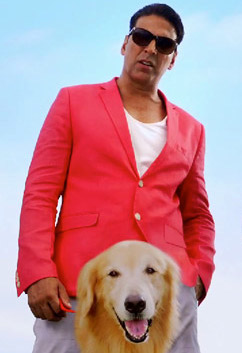 On May 27th, Akshay Kumar unveiled the first look of his upcoming film It's Entertainment. One of the cool things is that Politician and Animal Rights Activist and Environmentalist,  Maneka Gandhi was there at that special event. This is the first time she has associated herself with a Bollywood film. 
The film is all about a hero who has become the heir of a property left by his uncle. But on the condition that he takes care of his uncle's dog who is the real heir to the property.  What follows is a series of comic situations which brings the dog and the hero together.   
When asked her what made her take up a film like It's Entertainment, the BJP leader said, "I saw the trailer of the film in Delhi before and I said yes because the dog was perfectly alright and was treated well. This is the first film which has done responsible animal management.  By now we know the signs of mistreatment. I have also known Akshay's family and Dimple Kapadia and I have done many fund raisers together. His wife Twinkle has been kind enough to be a chief guest for People for Animals. Akshay also helped us raise money for a hospital 18 years ago and I liked to be associated with anything he does. We have 36 hospitals for animals in Mumbai and we have acquired land at Navi Mumbai and we will be doing great work for horses. "
At the launch event Akshay was asked if had a pet at home and the actor revealed, "I have two German Shephards. I bought the dogs when my son Aarav was born.  They take great care of my son.   It's amazing how they come to know about all this. Not a single day has passed when my pet Pokey as he is called has shirked his responsibilities.  I never had to worry about him when Pokey was around him." 
Akshay says he has learned a lot from his pets in life, "It is said that it's important for a man to have a wife and job in life but I think it's important to have pets at home."
Getting back to It's Entertainment, "This is also the first time where women will fall in love with the dog more than the hero" he adds.
Maneka Gandh said that it's great to have animals in films but they should be dealt with responsibly.  "We had done several laws on animals used in shootings years ago and there were millions of jokes on how awful I was which was rather fun.  Before we made rules millions of camels, horses, dogs and eight tigers had died. People supplying animals for shootings got it from poachers in the forest. It was posed as legal.  After the rules were made producers and directors tried to subvert the rules by shooting abroad. But there too it was banned. They tried to get beyond laws. I believe actors much more than politicians are role models in the country.  When they do something it makes a lot of difference.  For example the pug dog used in the Vodafone commercials.  No one had ever seen a pub before in the country.  It became a huge industry because it became a breeder's delight and they started suffering hugely.  We would like to have shown animals as companions to human beings but we like it more if it is shown in a responsible way.   No graphics or unusual use of animals like an elephant smoking or sitting on a chair will be allowed," says Maneka.
On a lighter note the BJP Leader says, "I would like it more next time perhaps if they would use a Indian dog. They are much smarter and you can film in India. We will be happy to show you people who train them well."
Giving out more information the leader said, "When a family keeps a dog they have been recorded scientific studies that a child becomes fifteen percent smarter, more responsible, and more social and more disciplined if a child has a pet before the age of two."
"I am going to tell the team to lend their faces to adopt a Indian dog" is her parting shot.
It's Entertainment is set to hit theaters August 8th. Check out the trailer!

-Shama Bhagat ErosNow.com