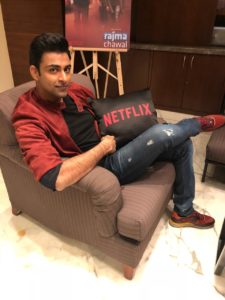 Director Leena Yadhav's Rajma Chawal is all set to release her film, 'Rajma Chawal' on Netflix today which also marks debut of a talented actor Anirudh Tanwar.
The pilot – turned – actor who plays the role of a musician shares that he does not relate much to his reel character, Kabir. He states, "The film is based on a father-son relationship. In the real life, my father and I are best friends while my character in the film is not. Hence, it was really difficult to bring the emotions out. But all thanks to Rishi (Kapoor) sir, who made me feel so comfortable that I could improvise and do my job better.''
Anirudh and his off screen character has another dissimilarity that is their compulsion towards social media. He adds, "Kabir and Anirudh are completely different from each other. While my character loves being on social media. I am not a fan of it. It is only now that my movie is releasing, that I have opened a social media account to know the audiences' real-time reactions and to connect with them. Personally, I am still trying to get a hang of it.''
The movie revolves around a father-son relationship where the father (Rishi Kapoor) is trying to reconnect with his estranged son (Anirudh) through social media.