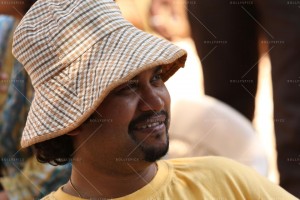 For debutant director Soumik Sen, it wasn't an easy start to bring
Gulaab Gang
on floors. Even though he had a powerful script with him and was receiving good feedback from all quarters, getting a producer to back the film was a major deal in itself. In that context, Anubhav Sinha came in handy.
"When someone like say, Madhur Bhandrarkar picks a subject like 'Gulaab Gang' and says that he wants to make a film on it, the journey is easier. After all, he has proved himself and the subject is his territory too. On the other hand here I was, a person who hadn't directed a film in the past, and offering to tell a story that had women playing protagonist as well as antagonist with no male lead. It is indeed very tough to pitch your film and get a right producer to back it. You really need someone who goes by your conviction, allows you to live your vision and doesn't cut any corners," says Soumik.
Once he realized that Anubhav was also turning producer with his banner Benaras Media Works, Soumik felt that this would be just the right platform for his Gulaab Gang to rise.
"Anubhav had the right intention to start his production house as he wanted to tell great stories. He was impressed by what I narrated to him of 'Gulaab Gang'. It was very heartening to see the way he was reacting. Yes, there were other producers also who were interested and then there were friends too who showed inclination. However I thought Anubhav would be the best person to do justice to a film like Gulaab Gang," says Soumik fondly.
Once Madhuri Dixit and Juhi Chawla came on board as well, the film turned ultra hot and there was no looking back post that. With 7th March just a fortnight away, Gulaab Gang, which is presented by Sahara Movie Studios and Bharat Shah, is all set to be unveiled.