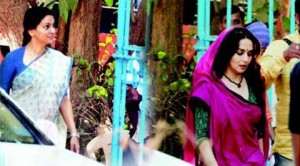 There have been recent reports about the real Gulaab Gang leader Sampat Pal being miffed with the filmmakers of Gulaab Gang as they didn't take her permission to make the film based on her, but now Anubhav Sinha has cleared the air and said that the movie is not based on anyone.
"Gulaab Gang is fiction. It is not based on anyone's life. Yes, there may be some similarities like the colour, but it is not a documentary on Sampat Pal and her life. People are thinking that way because of the similarity in the name," he stated.
Anubhav told the Times of India, "My director Soumik Sen told me the story while I was in Banaras, and I loved the story. I knew this film will not be easy to put together, since we have no male protagonist and there are action scenes as well as dance sequences. Also, I was well aware that I will have a problem generating money and I went through struggle. But eventually, I enjoyed making this film."
The director-turned-producer is bringing the two Bollywood divas Juhi Chawla and Madhuri Dixit together on screen. He said that Juhi was surprised to receive the offer at first. "Juhi said that no one had come to her with a film and a story like this before. She took about three meetings to finally say yes," he said. Talking about Madhuri, Anubhav said that Soumik had met her before narrating the script to him so he already had her in mind.
Anubhav dreamed of being a producer for quite some time and he is very happy that he is turning producer with a film like Gulaab Gang. "Since 6 years, I wanted to become a producer and for so many reasons. One reason being that I have noticed the limited producers in our industry and sometimes, films with interesting scripts also don't get enough financial attention. Secondly. Ra.One took 5 years and I was exhausted by the end of it," he added.
Reportedly, Anubhav has 3 scripts under his production that he is doing. He is aiming at a 2013 release for his film Warning and he is also producing Zid.