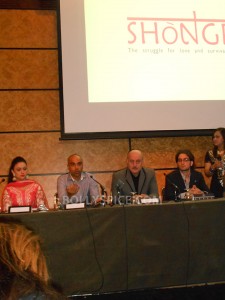 Bollywood legend Anupam Kher attended a press conference on Friday evening for the forthcoming Bengali film Shongram. Mr Kher was joined by the film's director Mansur Ali, as well as Bangladeshi actress/model Dilruba Yasmeen Ruhee. Shongram is a romantic drama which is set against the backdrop of the 1971 Bangladesh Liberation War. This is the first time a British film is being simultaneously written, produced and directed by a British-Bangladeshi. Mr Kher was also in London to shoot for his scenes in the film, where he plays the older version of lead character (the younger version being played by actor Amaan Khan).
Speaking at Grange City Hotel in London, Mr Kher said the following. "As a 16 year old boy living in Simla, I know about 1971 and what happened at that time. So there's more than just an actor's participation in this film. It's also good to do multi-national films; especially with first-time directors, since they put everything that they have into their film. Also I like bald men (Kher jokingly referring to Ali), especially when they offer me an interesting role, (audience laughs)."
The lead actress Dilruba Yasmeen Ruhee added a few words to the discussion regarding Shomgram. "I'm really happy to be here at this press conference. This is a really good film and it's my first international film. Our people (Bangladeshis) live in various countries, yet the young generation do not know how their country was born. So I'm really happy to be a part of this film and thank you to Mansur for casting me in this (film)."
In addition, director Mansur Ali spoke about Shongram and his experiences of making the film. "We're looking to launch the film in Bangladesh around December when Victory Day is held and a UK release soon after." Speaking about Anupam Kher, Mansur had this to say, "I was very inspired when seeing Anupamji in 1942: A Love Story (1992). The first day we were shooting with him, I was really, really nervous. However, he's so easy to work with and also made some really good suggestions when it came to locations for this film."
For those who are looking to get away from Bollywood for a short while, then do check out Shongram when it releases at the end of 2013!
In the meantime, you can take a look at the film's synopsis, as well as a sneak preview below!
"Four decades after the 1971 liberation war of Bangladesh, a British Bangladeshi on his deathbed speaks to a daring London reporter finally revealing his past. He reveals a simple way of life, now all but forgotten, ravaged by war, genocide and abduction, which forces him to go underground and join a small band of freedom fighters. He must now face new challenges and seek revenge before he can search for the love of his life. It's a fictional drama based around factual events."
http://www.youtube.com/watch?v=ctNugVMaNaU