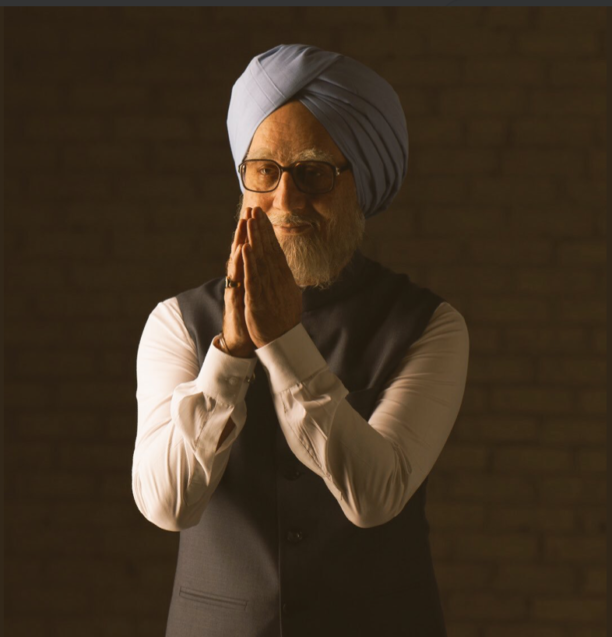 Since the very first look, audiences have been very excited about esteemed actor Anupam Kher's portrayal of Prime Minister, Dr. Manmohan Singh in The Accidental Prime Minister. The film is based on a book by the same name by Sanjaya Baru, who worked with Dr. Singh during his tenure as Prime Minister.
We have an early special inside look into the film with this amazing interview with Anupam Kher.
Anupam revealed, "Sanjaya Baru was the media advisor to the Prime Minister, Dr. Manmohan Singh. He [Baru] wrote a book about Dr. Manmohan Singh, which became very popular and controversial at the same time, because he wrote about the inside stories of what goes on inside the PMO (Prime Minister's Office)."
He says he was fascinated by that look into offices of the government especially the Prime Minister, "We don't make political movies where we know what happens there. Like in USA, there is The West Wing, House of Cards or so many others…you know what is exactly happening, what the mailroom may look like, how the White House looks like from the inside. This could be the first film that will give an idea of the PMO's functioning. I was very fascinated by that."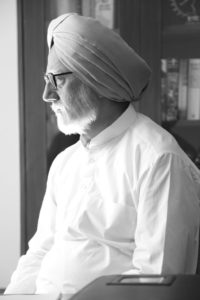 So what was his reaction when he was approached to play Dr. Manmohan Singh? "My first reaction when the producers came to meet me was I don't want to do it, because it is too frightening to do the role of a person that is still there. Visually everybody knows how he walks, how he talks, how he dresses up, … everything. It's not like playing Gandhi or playing some other historical character, because you have their footage of black and white portions of their life – I know it is very difficult to do that also. But people from a child to a grown up or anybody in a village also know how Dr. Manmohan Singh is."
"I did not want to do that because I said you know sometimes an actor does not want to get exposed because he thinks that Oh My God, if I don't do it right…but that is what the gamble is all about. As an actor, I was 28 when I played a 65-year-old man's role and that was my first film. So I said, Okay I will read the script. I had read the book and liked it. Sometimes the book may not get translated in the script. Once I read the script, I said I would do it," he added.
In the beginning, when Dr. Manmohan Singh was in the government, Anupam said that he was critical of him. "As a citizen you talk about it and say 'OMG, this should have not happened. This should have happened.' You know?" However, after doing the preparation, his mind changed about the man, "When I started watching his videos and I started researching it, I started liking the fellow. I started liking Dr. Manmohan Singh because it is only his life and I understood his point of view."
Amazingly, the actor went through about 4 to 5 months of intense preparation for this role. "I've never worked so hard for any particular film. See it deals with emotions and the easiest thing in the world is to make a caricature out of it especially when the title is The Accidental Prime Minister."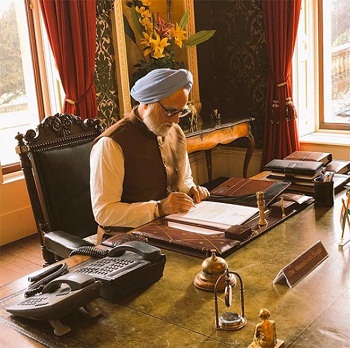 "With Dr. Singh, he is not bombastic, he is very subtle, he is very complicated, and he is a loner. I wanted people to like him from a new perspective and that is what my director wanted also. It was like walking on a razor's edge. You not only had to look like him, you had to think like him, you had walk like him, which is very difficult. Then he has a very strange voice, a weak voice. If you try and make a weak voice thinner it could become a caricature. So I had to find a middle ground," he continued.
Adding this explanation, "Cinema and acting has nothing to do with your internal process. I always believed that method acting is not about thinking, it is about doing. You may be thinking anything, as long it shows in the eyes that you are the thinking like that person it works better."
Fascinatingly, "It is being made in both languages – English and Hindi, both. It is not dubbed. The two different negatives are made… so we used to do one shot in English and one shot in Hindi."
It was a creatively satisfying experience, he said. Adding, "And tiring also. Took me 1.5 hours to get into the character. I did meditation, I needed silence. I needed to shut out the whole world because people are going to perceive Dr. Manmohan Singh from this point of view and this will give them a different perspective about him. I am very happy."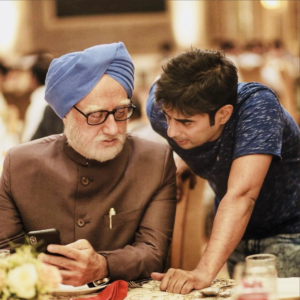 Another thing that excited him about the project, "It is a first time director [Vijay Ratnakar Gutte] who is making it. I get very fascinated by the first time directors. I must be the only person who has done maximum first time director movies, whether it is Dilwale Dulhania Le Jayenge, whether it is Kuch Kuch Hota Hai, whether it is A Wednesday or Khosla Ka Ghosla. So that he is a first time director too is fascinating."
When we talked in September, he said, "95% of the film is ready. I will just go back for 3 to 4 days of work. I think we have something very, very sensational in terms of cinema."
Anupam is ecstatic that the film has been sold at a whopping price, "It is the triumph of cinema. I was so thrilled that a film like this can get such an amazing price. So that means content is becoming the most important. The people who have bought it they've seen the film and after seeing the film they've bought it for that much amount, which is fantastic."
He is also happy that the first look, "…created a sensation on its own. When we released the first look poster with the face of mine it really created the interest. So now whenever I travel to Mumbai, New York or Canada or anywhere, people only want to know when The Accidental Prime Minister is releasing. So the release date is 21st of December."
We can't wait to see the trailer and then see this incredible actor bring Dr. Singh to life in The Accidental Prime Minister on December 21st.
Thank you Mr. Kher for the incredible answers. As always it is fascinating, educational, and wonderful to talk with you.