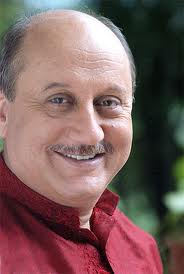 Over his incredible career, Anupam Kher has been in over 400 films and 100 plays. He is one of the most highly thought of actors in the industry, and has created some of the most indelible characters of Hindi cinema, ranging from dramatic roles to comedy and everything in between. The actor has given wonderful characters not only in Bollywood, but also in Hollywood, the UK and Canada. For the Disney produced film Zokkomon, Mr. Kher took on not just one role but two, playing both the good Scientist and the bad Uncle. Zokkomon is a mix of a classic Indian tale, a children's movie, a superhero flick, good triumphing over evil, and so much more! Directed by Satyajit Bhatkal and co-starring Darsheel Safary and the wonderful Manjari Phadnis, the film was released in April and now is making its way to DVD on July 26th. To celebrate the release of Zokkomon on DVD, in an in-depth and inspiring interview Mr. Kher talked with Stacey about the film, playing two characters, working with Darsheel and revealed what every actor wants to hear!
Not one role but two!
My director Satyajit Bhatkal and representatives from Disney came and narrated the script to me, then gave me the script to take home to read. There were two roles in the film that I could have played, but they offered me only one. When I read the whole script, I shocked them the next morning when I said I wanted to do both. They thought I was a megalomaniac, this actor is completely mad or that I was completely drunk…power drunk. It took me about two hours to explain to them how interesting it would be to have the same actor playing two completely different roles: one the protagonist and the other the antagonist. I thought it would be fascinating if I got to do both the roles, but the important thing is that we will not tell the audience that it's the same actor.
A Challenge
After you've done about 400 films in 27 years, you want to challenge yourself as an actor. I don't want to be just a part of a project, take money and move ahead. Unfortunately, the problem is, and I'm not saying it as running them down, but you get very few roles, which you can really get into it and enjoy it. I think that's the greed of an actor, to have someone say, 'Oh My God! What an actor!' Just to hear those three lines actors can go to any length. Also, I think it's important to sort of think of how much you can push yourself, as it affirms your faith in your own self when you do something like that, as a person not necessarily only as an actor. So in that way I think it was good.
The Two Roles
Deshraj: You see Deshraj is something I have done. There was nothing special but I wanted to add an element in Deshraj to make him different. Somehow the villain in a film like this has to be slightly comical, he has to have an animated feeling even though it's not an animated character. A great example of this is in the Warren Beatty film Bugsy. Every character's treatment was like that. I also was influenced by Danny DeVito's Penguin. That was my brief in my mind.
Then I have my personal revenge on people who wear a wig. I thought let's give this character a wig and the audience should know that it's a wig. It shows how comical it is when people wear wigs. My director said we shouldn't remove it; I said the idea should be that in the scene twice it should be removed or fall off. We also had a wig under a wig, which was a bald man's wig, because I did not want to break that illusion that if the wig is removed then it's Anupam Kher. I tried to, there's a phrase in India I don't know how to translate it but it says 'okay, ask for problems', so I was asking for problems.
Magic Uncle: They got this prosthetic artist from France and we did five hours of makeup. I had five hours of preparation because I had nothing to do but to shut my eyes and let people do their job. Besides the makeup, the preparation for him was interesting. I used lot of gestures while doing Deshraj and so as far as Magic is concerned I wanted to be absolutely still. The makeup did half the thing, and the rest was that I did everything slow, slow. I thought as Magic I could not move my hand because I, as Deshraj, did quite a bit. I thought I had to keep it quiet, I can't move fast.
Who is that Russian Actor?
When my mother saw the film in India, she did not recognize the other character [Magic Uncle] at all. She asked me who is that Russian actor? And my wife [Kirron Kher] was shooting in a close by studio; she's one of the judges of India's Got Talent. I entered her van without knocking and she almost called the police saying a burglar has walked into her van!
Even Darsheel, it was very funny. On the call sheet my name was different, not Anupam Kher for Magic. One time after I became Magic, I sat next to Darsheel and I started to speak to him in gibberish Russian. He went to the director and said, 'Tell him I don't know Russian.' Then in about 10 minutes I started speaking to him in Hindi. He was completely zapped, he said, 'God, this is too much. How do you learn Hindi?' So I said, 'If I want to prepare my role I have to talk in Hindi."
That's the triumph of the makeup artist and also the people behind it. I must congratulate Disney and my director for having faith in an actor to do such an unthinkable thing in India. Abroad, Eddie Murphy does seven characters in a film and they are all looking very strange and deformed. I don't want to take away from him from what he does, but in this film this is someone that is a normal, believable person. It's not a fat aunt or uncle or something like that. What I'm trying to highlight is that it was difficult but it's managed to happen. It was very interesting to do that.
Both in one day
Out of 45 to 60 days that I shot there were eight days where I had to do both of the characters in the same day. That was a killer. Because I used to get up in the morning at five, get my makeup done by 10-10:30. Then finish a certain sequence. Then it took me one hour to remove the makeup.
Again let's go back to the greed of the actor and he would like you to say, 'My God, how did you do that?!'
As Brando said, 'If you are not talking about the actor, he's not listening to you.' (Laughs)
Looking back does he think why did I say I would do both?
No, no, no, no, not at all! I would have hated myself if some other actor was doing that other role. Yes, when I was doing it maybe, but it also taught me how to be patient. I'm an impatient person, I'm restless, but I had no alternative but to sit down and have that makeup done. It also told me how to deal with my irritations, how I should deal with summer and a temperature of 40 degrees in a jungle in Bombay. How I should deal with sweat going inside my prosthetics.
I'm a great optimist so I always turn various situations, which could happen worse into something, which is favorable to me.
Working with Darsheel
It was a fabulous experience! Darsheel is a very cocky, smart, charming young actor. I was on my toes all the time. You know, if there are two people, either an animal or a child, when he is in the frame no one is looking at you. Darsheel is not only a child, he's a smart cookie, you know. He's a delightful person to work with. You don't feel that you're working with a child, but you feel like you're working with an actor who knows his job. He knows his job instinctively.
It was fun to tweak his performance here and there. There is a teacher in me so I was constantly was teaching. I'm a trained actor. 90% of actors in India are a not trained actors and that's why I run an acting school, because I thought that everybody should be trained.
Also when I work with children I treat them as equals. It becomes easy for them. I don't behave like a legend. In India, immediately you do 40 films and you're a thespian. That means basically they are telling you to retire. There are standing instructions to people around me 'don't ever, even after 40 years, call me a thespian or a legend.' I was on equal terms with him. I used to crack jokes with him. It was wonderful working with him. Here is a boy who's constantly playing with his Gameboy, doing his homework, who has a tutor on his set and then he's performing. I admired him for that.
Zokkomon is victory of good over evil


Basically the nature of the film is victory of good over evil. When you have a super-hero film, whether it's Superman or Batman, how that happens and how entertaining that is that is what such movies are all about. However, the point is that the superheroes have been always from the West and I was telling people in India that we should be thankful to Disney for bringing the first child super-hero from India. That's an interesting aspect of it and the children are going to like it along with their parents.
The USP of the film is an interesting story and it has the elements of Hindi cinema, but used in a very international feel.
Also I think it's important in today's world – people see goodness only in cinema, otherwise the news and everything else is so full of you are living in a horrible world. Earlier Indian cinema was only about dreams that good things happen only in cinema. Now the world cinema is becoming like that. I think that is important and a good thing.
His journey over 400 films
I am a great optimist. The ultimate definition of optimism is an interesting line my grandfather used to say: 'Nothing is all wrong. Even the clock that has stopped running is correct twice a day.'
So I got into movies. I've come from a small town in up north – Shimla. I did not go to the best of schools, I did not have the best of clothes, but I had dreams, and dreams should keep changing, you should never stop dreaming. When I did my first film, I did not know that someday I would be talking to someone called Stacey who will be asking me a question about looking back and my journey. I always felt there was a possibility of life. When I was getting this honor in Toronto for completing 400 films I said, 'I'll see you when I finished 800 movies.' It's not the question of only movies or number of movies: I think it's a great journey. That journey has had its ups and downs; it's had its bends and it's had its speed breakers, but at the end if you reach the destination and don't remember the journey then it's not worth reaching that destination.
When I first started writing about Hindi cinema I never imagined I would be interviewing Mr. Anupam Kher, and it was an incredible experience. I thank him for taking the time and giving such wonderful answers, and I hope you enjoyed reading our talk. Watch Zokkomon to be amazed at Mr. Kher's two characters; I bet if you hadn't read this interview you would never guess it was him playing Magic Uncle!
Zokkomon comes out on DVD on the 26th and will also be available on iTunes and many other platforms.
Zokkomon Synopsis: Kunal (Darsheel Safary), an orphaned boy, discovers how cruel life is when he is abandoned by his heartless uncle (Anupam Kher). Left to fend for himself, Kunal soon realizes the hero within and begins his epic journey of adventure and transformation to become Zokkomon. Zokkomon will soar into the hearts and lives of audiences everywhere, to take his place alongside the world's most beloved heroes.