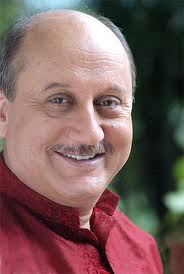 Indian actors continue to expand into Hollywood (Anil Kapoor – Mission Impossible 4, Amitabh Bachchan – The Great Gatsby) and now Anupam Kher has just announced via Twitter that he has been signed to star in The Silver Linings Playbook, alongside Robert De Niro and Bradley Cooper (The Hangover).
The film is due for release in 2013, is being directed by David O Russell, known for the hugely successful Oscar nominated film The Fighterand is based on a book by the same name, written by Matthew Quick.
The story follows a character named Pat Peoples (Cooper), an ex-high school history teacher, who as just been released from a mental institution and put into the care of his parents. He spends his days building himself up to re-unite with his estranged wife, by trying to become the man she wanted him to be. In the midst of this he develops a strange friendship with the equally mentally unstable Tiffany, who joins him in his journey.
Although Anupam Kher is yet to read the book, it already seems clear that he will play the role of Pat's psychiatrist, whom he develops a friendship with, as the character in the book is from an Indian background.
It hasn't been confirmed which character De Niro is set to play, but one can assume it's the role of Pat's father, in which case it may be disappointing for fans to hear that there is no interaction between Anupam's character and De Niro in the book! But for the sake of fans, let's hope the writers take some liberty with the script!
Anupam Kher has acted in a few notable British films (Bend it like Beckham, Bride and Prejudice), but this is slated to be his first major Hollywood film. Here's wishing him all the best!